Monster Mayhem is a castle defense game pitting you against wave after wave of snarling, cartoonish monsters. Thankfully, you've got an impressive arsenal of weapons at your disposal.
In Monster Mayhem by Chillingo, you play the role of the gate keeper, and it is your job to keep the monsters locked behind a gate. Like most monsters, they're uncooperative, and they will attempt to escape by smashing down your gate. Fortunately, you have a large variety of weapons from a simple knife to more elaborate weapons like a flame thrower and even an atomic bomb. There are eight weapons in all, and each is upgradeable. Earn money to purchase weapons and upgrades by eliminating monsters. You'll encounter twenty different monsters each with different characteristics and vulnerabilities. There are five stages in the campaign mode along with an endless mode and a boss rush mode which must be unlocked.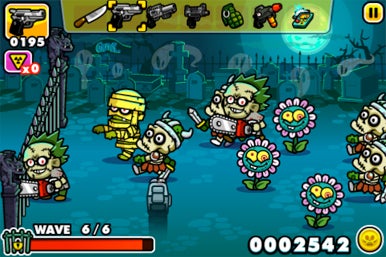 Monster Mayhem is a fantastic castle defense game brimming with quality and attention to detail. The stars of the game are the monsters which are carefully drawn and animated each with a personality of its own. There is plenty of arcade action, but a little strategy too. Since you have to not only purchase the weapons but also the ammunition, you'll have to think through how you want to spend your money to survive the next monster wave. The long campaign mode, alternate game modes, and three levels of difficulty add up to many hours of challenging gameplay.
Monster Mayhem sets a high standard for this genre of game. It is packed with features and integrated into a wonderful gaming package.
Monster Mayhem is compatible with any iPhone, iPod touch or iPad running iPhone OS 2.2.1 or later.
[James Savage is the host of the RetroMacCast a weekly podcast devoted to older Macintosh computers.]