At a Glance
Expert's Rating
Pros
Incredible speed
Decent feature set
Attractive interface
Cons
No non-destructive editing
No file browser
Weak masking tools
Our Verdict

You don't have to be a photo nerd to know that Photoshop is the undisputed king of image editing. But Photoshop is also very expensive, so unless you can use the program to make money, the $699 price tag can be difficult to justify.
While iPhoto is a good alternative, it's a little lacking when it comes to advanced image editing features. That's why many photographers have opted for Pixelmator and its $59 price tag (the new version is available as a free upgrade for existing Pixelmator users). Now, with the release of version 1.6, code named Nucleus, this full-featured image editor wrapped in a Photoshop-like interface is even more appealing.
After twenty years, Photoshop's interface has been refined into very intuitive and workable tools. Pixelmator doesn't shy away from following many of Adobe's design ideas. On the left you'll find a very Photoshop-like toolbox, complete with foreground/background color pickers, and buttons for a quick-mask mode (this lets you define a mask by painting). Pixelmator's toolbox does Photoshop's one better, though, with cool animated icons. This is just one example of the overall professional and cutting edge look that Pixelmator sports.
Pixelmator is document-based, meaning you open documents in individual windows rather than in a self-contained environment like Adobe Photoshop Lightroom, iPhoto, or Aperture. Like in Photoshop and Photoshop Elements (which is Pixelmator's closest comptetion), this allows you to work flexibly and arrange your documents and tools however you like.
Inside the toolbox
Pixelmator has a very well developed toolset that includes most of the things you'd expect to find in a modern image editor. Brushes, selection tools, rubber stamp, sharpen/blur, text, and more are all available and work just like you'd expect them to. An array of floating palettes give you access to layers, color swatches, masks, brushes, and a few other odds and ends.
There aren't any revolutionary tools in Pixelmator, just a good workhorse selection for most of your everyday image editing tasks. For selections, your fanciest tool will be the magic wand, while retouching doesn't go beyond the clone stamp tool.
The tools themselves are smartly implemented and responsive. Pixelmator supports pressure-sensitive tablets for your brush tools, so fine retouching and painting are no problem.
Speed boost and other new features
One of this release's greatest improvements is speed. Pixelmator 1.6 has 64-bit support and makes heavy use of your Mac's graphics processor (GPU). This shows in the program's greatly increased speeds and general zippiness. From its two-second launch time to its real-time previews of full-screen filters, Pixelmator is a screamer, and this pays off when you're trying to execute a complex edit or effect.

An incredibly useful and simple new addition in version 1.6 is the File -> Send To menu. Here you can instantly include one image in an e-mail, export it to iPhoto, or upload it to Flickr, Facebook, or Picasa.The new release also integrates with OS X's Image Capture program for quicker importing from attached cameras, memory card readers, or scanners.
For compositing in Pixelmator, you've got a Layers palette complete with layer masks and transfer modes, while the Masks palette lets you save any selections that you've made. In this new release, Pixelmator has added the ability to group layers for a cleaner, more organized work space. This also allows the user to apply certain edits to a batch of layers at once.
Filters and effects
Pixelmator includes a fairly large suite of effects filters. Unlike Photoshop, though, these filters don't present themselves in a dialog box. Instead, their controls appear in a small floating palette, and the effects are applied real-time to your image window. This is a great way to work, and another perk of Pixelmator's GPU underpinnings.
The filter selection is very good, with sharpening, distortions, some pseudo-natural-media effects, transition effects (for creating page turns and the like), and other cool effects.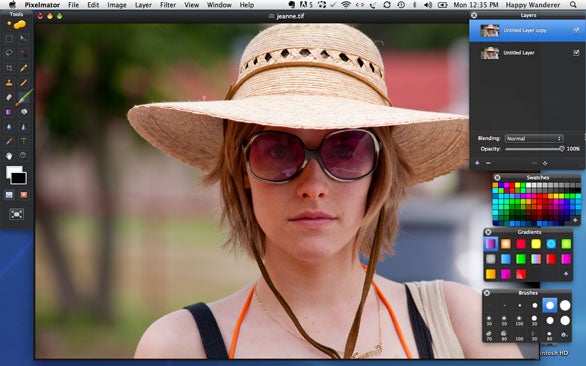 What's missing
It's silly to compare Pixelmator to Photoshop's feature set. Simply put: if you want high-end features, you have to pay a high-end price. That said, there are some things that Pixelmator could really use.
While the Photo Browser palette gives you access to all of the images in your iPhoto library, there's no file browser in Pixelmator, so you won't have an easy way to browse thumbnails of images outside of iPhoto.
The toolset is good, but it lacks dodge and burn tools, and the program offers no red eye fix of any kind—a fairly common staple in consumer image editing.
The program packs a very full assortment of global editing tools. Levels, Curves, Brightness and Contrast, Hue/Saturation, Color Balance and Replace Color are all provided, and each presents an excellent interface. However, there's no way to apply these edits non-destructively. You can duplicate your image layer, apply the effect to that, and use layer masks to selectively apply the effect, but if your edits get too complicated, this technique becomes cumbersome.
Pixelmator can open raw files via OS X's built-in raw engine. So, if you can open a raw file in iPhoto, Preview, or Aperture, or preview it with QuickLook in the Finder, it'll open in Pixelmator. However, you get no parameters for controlling the raw conversion. This is a place where Photoshop Elements scores over Pixelmator
Finally, with the Magic Wand tool as your most sophisticated selection tool, you'll be hard pressed to do much in the way of sophisticated masking and compositing. Hair and other fine details will be difficult, if not impossible to mask well.
Macworld buying advice
Pixelmator has a tremendous amount of charm, both for its well-defined feature set, beautiful interface, fantastically fast performance, and low price. That said, with Photoshop Elements priced at $89, it's hard to see choosing Pixelmator over Elements, which packs more editing tools, Adjustment Layers, Bridge, and more. If low price is absolutely essential, though, then Pixelmator 1.6 is a great option.
Pixelmator 1.6 only works on Macs running OS X 10.6 and later. Pixelmator offers a 30-day free trial so you can try the program out before deciding to buy.
[Macworld senior contributor Ben Long is the author of Complete Digital Photography, fifth edition (Charles River Media, 2009).]