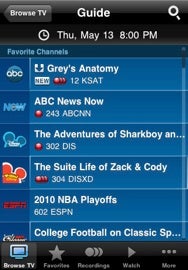 AT&T has upped its ante in the mobile video race with a major upgrade to U-verse Mobile, its iPhone app for allowing subscribers of the company's U-verse service to manage their TV recordings and home DVR.
U-verse Mobile 2.0 now allows customers of specific AT&T service plans to download some shows to their iPhones for watching on-the-go. A selection of shows is available through the U-verse Mobile Library to customers of the U300, U400, and U450 plans. The app displays a new section called "Library of Downloadable Shows" where users can browser and download episodes.
Of course, AT&T is far from the only company trying to carve out a slice of the expanding iPhone video pie. Other companies and apps offer similar features with their own twists, including Netflix, EyeTV, and SlingPlayer.
Favorites is another new feature in U-verse Mobile 2.0, allowing you mark channels for easy access. You can also now tag your favorite shows for easier organization and search.
Keep in mind that while you can use most of U-verse Mobile's features over EDGE, 3G, and Wi-Fi, episodes can only be downloaded over Wi-Fi. Furthermore, only iPhone owners can use this new feature—it's not available on the iPad or iPod touch.
U-verse Mobile is available now for free in the App Store and requires iOS 3.1 or later.