Imagine one day you're just standing, waiting for a cab, when suddenly objects begin to fall out of the sky. What do you do? Well, if you're Frank Solway, hero of the new game The Incident, you start jumping and climbing as though your life depends on it. Which, to be fair, it does.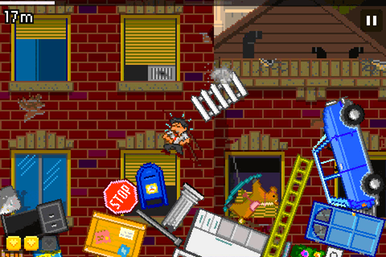 A collaboration between Big Bucket Software's Matt Comi and Panic's Neven Mrgan, The Incident harnesses newer technology like the iPhone's touchscreen interface and accelerometer but views it through an 8-bit lens, paying homage to the classic games of yesteryear. As Frank, you must dodge the incoming detritus, ranging from everyday objects like taxis, sofas, and fences to more, er, unusual items, like mummies, giant pink teddy bears, and dinosaur skeletons. Keep climbing forever upward on your pile of items until you can get to the top and discover the cause of the eponymous Incident.
Fortunately, along the way you can grab power-ups that help you in your journey, like a helmet that lets you take some extra whacks to the noggin or coins (grab ten of them to get an extra life). You'll also accrue trophies along the way recording the highest point you managed to leap to and what object was eventually responsible for your demise, which you can view in your trophy room.
The game's also a universal app—Mrgan and Comi made a few tweaks to tailor it to the iPad. The Incident costs $2 and runs on an iPhone, iPod touch, or iPad with iOS 3.0 or later.