Codewave Software has updated its placeshifting iPhone app, MyTunesRSS, adding video playback controls, playlist shuffling, bug fixes, and more.
MyTunesRSS is a $20 application that turns your home computer into a media server, making your iTunes library available over a local network or the Internet. With MyTunesRSS, you can browse and play your complete music and movie collection from anywhere using a Web browser.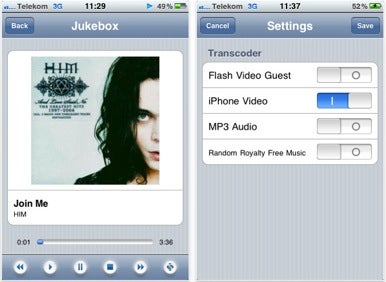 The MyTunesRSS iPhone app extends MyTunesRSS placeshifting to your iPhone, providing you with a native iPhone interface for enjoying your home iTunes library wherever you have a connection to the Internet. Along with streaming any song or movie from your library to your iPhone, you can also access your iTunes playlists and create new ones directly in MyTunesRSS.
Codewave has recently updated the app with new features to give you more control over your library: there are now video playback controls and a button for playlist shuffling, plus a settings page for activating various transcoders. In addition, the company has fixed a few glaring bugs in the earlier version.
MyTunesRSS 1.0.2 is free and runs on iOS 3.1 or later, though you'll need to have MyTunesRSS server version 3.8.13 or better on your home computer in order to use the iPhone app.
Codewave is currently offering a free 30-day trial of MyTunesRSS for Mac.