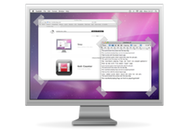 Australia-based developer Cordless Dog released Stay, its first Mac application, earlier this week. Stay keeps windows on your Mac exactly where you want them.
Stay lives in your menu bar. When you position and resize your windows just the way you want them, you use the menulet to save their locations—whether for all open windows, or just the windows from a specific application. Then, if you need to move things around, you can always restore your windows to their last-saved position.
Folks who use multiple monitors may appreciate Stay even more; the utility can automatically restore windows to your preferred placements when you connect and disconnect monitors. You can even save one desired window layout for when you're just on the laptop, and a second layout for when you connect a second screen.
Stay costs $15, and a free, 30-day trial is available. It requires Mac OS X 10.6 or later.