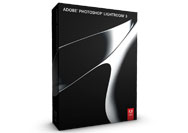 Adobe has updated Lightroom, its digital photography workflow solution, along with Camera Raw. The updates extend raw file support to 12 new camera models, improve on several of the lens correction profiles introduced as part of the Lightroom 3 and Camera Raw 6.1 releases, and add more than 50 new lens profiles to help photographers automatically correct for undesirable distortion and aberration effects.
Among new cameras supported are the Panasonic DMC-FZ100, Panasonic DMC-FZ40 (FZ45), Panasonic DMC-LX5, Pentax 645D, Samsung NX10, Samsung TL500 (EX1), Sony A290, Sony A390, Sony Alpha NEX-3 and Sony Alpha NEX-5.
The updates also improves the color and noise profiles for the following cameras that utilize the DNG raw file format already supported in previous versions of Lightroom and Camera Raw: Casio EXILIM EX-FH100 (DNG) and Leica S2 (DNG).
Lightroom 3.2 offers users the ability to publish photos directly to Facebook from within the application, and addresses issues reported by customers on the Lightroom 3.0 release.
Lightroom promises to help serious amateur and professional photographers quickly import, manage, enhance and showcase all their images from one application.
The Lightroom 3.2 Release Candidate is available as a free download for Lightroom 3 customers, while the Photoshop Camera Raw 6.2 Release Candidate is available as a free download for Photoshop CS5 customers.
Both updates are available to download now on Adobe Labs.