iPad news readers are apparently the new interface sandbox, as apps like Pulse and Flipboard experiment with new ways of visualizing the news you care about. Acrylic Apps is the latest to dabble in a new way of reading news with Times for iPad.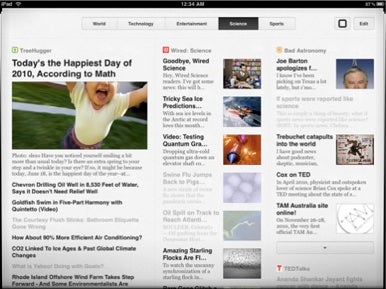 Like its Mac counterpart, Times for iPad brings a newspaper aesthetic to the 21st century experience of reading news with RSS feeds. Instead of a tried and tested list of feeds and folders on the left and headlines on the right, Times lays out stories and photos in columns more akin to a newspaper, with separate, customizable topic pages like technology, arts & entertainment, sports, and whatever else you want.
You can read full articles in Times or click through to the original Website, save stories to the Shelf for review, and share stories via Twitter, Facebook, and e-mail.
One of Times's real advantages seems to be its advanced layout features. You can add as many feeds as you want to a page, set the number of columns, and customize whether it displays only headlines or includes photos with each article. This way you can set up a page with multiple columns no-nonsense news headlines, and another with wider layouts for a couple of your favorite photo blogs.
With the release of Times for iPad, Acrylic Apps has also teased an upcoming Times 2.0 upgrade for Mac. The only major new feature the company will share for now is that it will sync with the iPad version.
Times for iPad is available for $8 now in the App Store and requires iOS 3.2 or later.