While each iteration of the iPhone promises improved battery life, many users will inevitably find themselves in a situation in which their battery has drained far too quickly for their tastes. Battery Manager Pro, from Tap Is Fun, is designed to help users make the most of their battery when power is at a premium.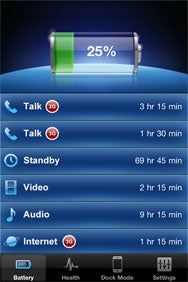 Battery Manager Pro focuses on two areas, the first of which is battery maintenance. This feature aims to boost battery health; you activate it by connecting an iOS device to power cable and then enabling the "Start Maintenance" button within Battery Manager Pro. Unfortunately, you're supposed to do this when the battery is below 20 percent; iBattery Manager Pro must remain running until the full charge cycle is complete, which can take a while. On an iPhone 3GS and iPhone 4, I was able to see very little boost from running the app's maintenance features.
The other area of focus—battery management—is clearly the app's strong suit. The battery management function shows the iOS device's total battery percentage and will break down how much time can be spent in various activities with the current battery charge. Unlike some other battery management apps, Battery Manager will let the user toggle sliders to choose how much time can be spent doing certain activities in relation to others.
Although the battery meter didn't always match up with the Apple battery-percentage meter on the iPhone 3GS and 4 in my tests, the meter proved to be incredibly useful in effectively managing the iPhone's battery for efficient performance. Unfortunately, there is a nasty bug in the latest release of Battery Manager Pro that causes the app to crash on older iPhones—in particular, the iPhone 3GS.
Especially on devices like the iPad and iPhone 4, where battery life is much-improved over older models, I don't find myself needing to manage my time based on battery life. Yet, Battery Manager Pro definitely makes it easy to do so. If you're running an older handheld or will be away from a charger for a significant period of time, you could find Battery Manager Pro to be a welcome addition to your mobile device. While the battery maintenance feature probably does improve battery performance in some way, the real-life results seemed extremely minimal.
[ John Fuller is a freelance designer and writer from Texas.]