AmpliTube for iPad is beautifully designed guitar and bass amp modeling program with a wide range of effects, amplifiers, speakers and microphones that allows you to customize your tone in infinite ways.
IK Multimedia has been modeling amplifiers and effects for studio use for more than 14 years, and sells packages running on Mac OS and Windows that cost upwards of $350. The company's experience shows not only in the deep selection of effects pedals, speakers and amplifiers available, but also in the eye-catching design of this iPad app.
After launching the app and connecting your guitar through a cable—such as IK's own iRig adapter or Griffin's GuitarConnect—you're presented with a beautifully rendered workspace in landscape mode. (Be sure to check out our review of both the iRig and GuitarConnect cables.) At the top of the screen there are slots for up to four effects pedals, or stomp boxes (I wouldn't recommend stomping on your iPad, however).
The pedals each have on and off buttons as well as controls for level, tone, drive, and so on. Tapping on the name of the effect, just above the pedal, summons a drop-down menu with the 11 available effects, ranging from Fuzz, Delay, Overdrive, and Wah. If you'd like four flangers running at once, there's nothing but sanity and taste to stop you.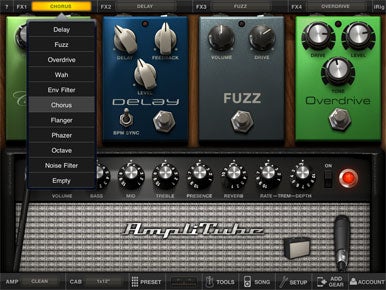 Below the effects, an amplifier offers a full view of the controls of familiar amps modeled after some of the most famous amplifiers ever made—the Marshall JCM800, Fender blackface Deluxe Rever, Vox AC3, Mesa/Boogie Triple Rectifier, and Ampeg SVT Bass head. The amps look realistic from the knob design, to the color and texture of the cabinet and the grill cloth. Each amplifier comes with a speaker, but you're welcome to mix and match to your heart's content. Lastly, you can select either a Shure SM57 dynamic mic or Neumann U-87 condenser microphone.
A free version—Amplitube Free for iPad—is also available, but with just three effects, one amp, one cabinet and the two microphones. The four additional amps and eight additional effects that come standard with the full version are available via in-app purchase for $5 and $3, respectively. To buy all of the extras à la carte would cost around $44. IK Multimedia says that additional amps and effects will be available in the future and available for both the full and free versions through in-app purchases.
At the very bottom of the workspace, a menu bar shows the currently selected amp and cabinet; there's also a shortcut to a preset menu which has nine default combinations of amp, cabinet, microphone and effects, but it can remember up to 36 custom preset combos.
One thing I wish the AmpliTube app would do is remember my amp settings automatically. Say I'm using the Fender amp with volume down to 7, reverb up to 10 and treble cranked down to one with the Fuzz and Octave pedal active, but want to see what it sounds like with the JCM800 instead. If I switch amps and come back, the amp settings return to their defaults, so if you find a setting you like, don't forget to make it a preset. It would also be nice to give the presets a nickname, instead of remembering that preset 12 sounds just like Eddie Van Halen's "Hot for Teacher" solo.
In the middle of the menu bar is a digital chromatic tuner that can be active even when playing. A Tools button brings up a larger version of the tuner as well as a metronome, which can be set to play a standard number of beats per minute. You also can tap out a tempo that the metronome will pick up and play.
AmpliTube for iPad allows you to play along with songs in your iTunes library. You can either play along with the entire song, or select a section of the song to loop over and over again—helpful for learning leads and complicated parts. A great addition would be the ability to slow down the selection without changing, which would make learning difficult passages even easier.
The biggest complaint I have about the app involves the overly complicated steps necessary to get songs to play along with. Regardless of the fact that you most likely have songs already on your iPad, if you want to add one to play along with, you must go to a computer connected to the same Wi-Fi network as your iPad, open up a Web browser, and type a given IP address into the URL bar. A simple Web page comes up with a Choose File button that lets you navigate your way through your Mac's files to find the audio files (the app prefers MP3s) that you'd like to upload, one at a time, up to a 20 song limit. The songs go through a one-time processing when loaded into the app. A competing app, iShred Live from Frontier, uses the songs present in your iPad or iPhone's iTunes library with no Wi-Fi connection or processing necessary. When asked why AmpliTube couldn't do the same, an IK Multimedia spokesperson told me that using iTunes, which uses a large buffer size that AmpliTube would have to match, would cause latency issues—a small, but a small but annoying gap in time from when you play a note and hear it.
Oh, and the app sounds really good. You can clearly hear the differences between mic selection, speaker cabinets, and amps, and the effects like Fuzz, Wah, and Overdrive sound like the real deal. I played it through headphones and through some less-than-cutting edge computer speakers and was impressed by the sound in both scenarios. There is a little bit of crispy sounding distortion present in the clean tones, but not much.
AmpliTube offers two settings for latency, Low and Ultra-low. Ultra-Low is selected by default, but if you start to hear clicks and pops while playing, the app advises you to switch to Low. I didn't have any problems, but switched anyway and found no perceptible change in latency. I also tried plugging my guitar into a public address system. It sounded terrible until I figured out that I needed to disable the No Feedback setting. Once I solved that problem, AmpliTube sounded much better, though a little thin. I was able to improve the tone by tweaking the equalizer a bit, but AmpliTube for iPad is really meant for headphones and small speakers. As nice as it would be, I won't be replacing my stage amplifier with my iPad and AmpliTube anytime soon.
Overall, AmpliTube for iPad is a lot of fun, gorgeous to look at, and a clear winner when it comes to recreating the sounds of a boatload of amps and effects. Add in a way to record yourself playing and make playing along with the songs in your iTunes library and AmpliTube will truly rock.
[When not running Speedmark as the director of the Macworld Lab, James Galbraith performs in several bands; you can sample his music on iTunes.]