At a Glance
Expert's Rating
Pros
Microsoft Exchange 2007 support
Slight performance boost
Cons
Spotty data detection
Time Machine function is slow, doesn't allow searching
Our Verdict
The latest iteration of Apple's Mail client, like the OS it accompanies, seems little changed on the surface. Its greatest improvements lie under the hood, and while not all of them entirely live up to Apple's promises, the program on the whole remains dependably excellent.
A correspondence with Redmond
The new Mail's greatest selling point is its built-in support for Microsoft Exchange 2007, which lets Mail now work fluently with e-mail systems built for Microsoft's Outlook. If you prefer to use a Mac at home, but work for an all-Windows company, you'll no longer need Webmail or a remote access client to get your business mail.
Mail works with Outlook the same way it does everything else: simply, effectively, and with no frills or fuss. After establishing a VPN connection to my office network, and getting the necessary info from the tech folks, I was easily able to set up an Exchange IMAP account. My work mail appeared seamlessly alongside my personal accounts, with all my Outlook folders faithfully represented. Mail can also use Exchange data to populate your Address Book and iCal calendar.
Mail's documentation notes that businesses can add an autoconnect feature to their Exchange servers, allowing your Mac to fetch mail with no account information beyond an e-mail address and password. The server I connected to didn't seem to run this, so I wasn't able to test it. Manual setup was hardly a chore, though, taking maybe an extra minute and a few additional fields of data. If you want easy access to Exchange-based mail, but don't want to use Microsoft's Entourage or its forthcoming Outlook 2010, the latest Mail makes an ideal substitute.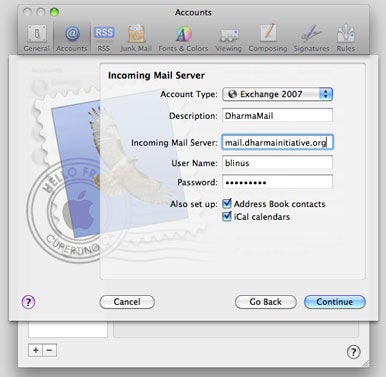 Speedier delivery
The version of Mail included with Leopard was hardly sluggish, but the latest Mail felt modestly but perceptibly faster on the 2GHz Core 2 Duo aluminum MacBook I used for testing. On its first launch after a restart, Mail opened in anywhere from two to five seconds; subsequent relaunches opened almost instantly. In regular use, the program was never less than nimble and responsive. Windows opened and messages loaded quickly, and the program sent and received mail reliably. The speed boost is a welcome improvement, but probably one you won't notice much.
Two more minor improvements grace Mail 4.3, one more dependable than the other. You can now rearrange the order of the folders and other items in the sidebar, including entire categories. Want your Smart Mailboxes displayed above your To-Do lists? Just drag and drop. It's a simple, intuitive improvement, and long overdue.
Apple also boasts that Mail's data detectors for dates, times, addresses, and people now include flights as well. Mouse over a flight number, and you can automatically launch the Flight Status widget in Dashboard for up-to-the-minute information.
In practice, the detector isn't so good at detecting. I checked stored e-mails with flight information from four different airlines, and only one (in which the flight number directly followed the name of the airline) triggered the data detector. This is understandably a tricky feat to perfect, given the different ways airlines display their flight information in e-mails. When it works, it's welcome, but don't depend too heavily upon it.
I also noticed another unheralded but useful change: When replying to some e-mails with long trails of back-and-forth correspondence in the body of the message, you can delete some or all of the nested messages simply by mousing over the appropriate chunk of text, then clicking the big "X" button that appears in the upper left corner of the highlighted area. Like the flight data detectors, this feature doesn't seem to work consistently, but when it does appear, it comes in handy.
Beyond that, Mail is little changed from the previous version. It still offers built-in Notes, To-Do lists, and an RSS reader, along with a handsome assortment of stationery. Mail's integration with Time Machine remains the same; you can browse archived mailboxes and individual messages, but you can't search through your backed-up mail. On my computer, using Time Machine with Mail ranged from lethargic to completely unresponsive. Perhaps Apple can speed up that feature in the next go-round.
Macworld's buying advice
Mail 4.3 offers no earth-shattering upgrades, just the same dependable, well-crafted, easy-to-use experience it always has. Considering that it was and still is the best mail client for the Mac, that lack of radical change is definitely a good thing.
[Nathan Alderman is a writer, editor, and semi-frequent flyer in Alexandria, Va.]