Since its inception in 1986, the Madden NFL football video game series has been known for its realistic depiction of football and its quality gameplay. EA Games' Madden NFL 11 for the iPhone and iPod Touch continues the tradition of fine gaming—albeit on a more modest scale. Those who have enjoyed the tackles, play-calling, and realism of previous Madden games are bound to enjoy this worthy edition, and new players will find the latest Madden to be the most intuitive to date.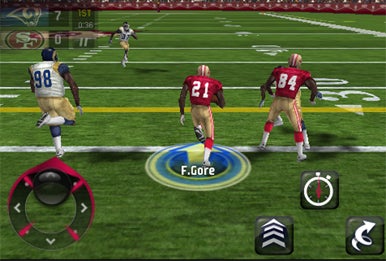 When you get down to it, the '11 version easily triumphs over its predecessor in one particular area: Defense. Thanks to a new "Total Defense Control" feature and the ability to add defensive hot routes, playing defense just got a lot more fun. The "Hot Routes" tool, also available in offensive play, essentially allows you to make customizable plays to apply on the field. Even better, once you create the plays, you can save them and use them again in another game. While the iPhone version of the game is barebones compared to the console version—there are fewer gameplay options, no real Easter eggs to find, and more simplistic controls than its console counterpart—the game is still head and shoulders over competing mobile football games.
Like in the console versions of the game, Madden NFL 11 offers you the choice to play single, season, exhibition, playoff or multiplayer games. Choosing teams is easy—just flick your finger up or down on the list. You can choose between any NFL team, such as the 49ers, Saints and Buccaneers. I mostly played my hometown team, the 49ers, as I have stubborn devotion to them. There are differences in each team's play, but as a very casual, limited experience Madden player and football fan, I didn't really notice.
Whether your team starts on offense or defense isn't too important, but each side is definitely different to play. I found picking plays on both sides not very complicated, and choosing audibles was also a breeze for me during gameplay. A nice new feature of Madden NFL 11 is called "Game Flow. Instead of having to decide on a new play every down, and you can instead, without going back to the play menu, just stick with the play you were previously using. You can also choose from any of your four audible slots or four hot route slots without going to the main playbook. These changes help make Madden a faster, smoother experience.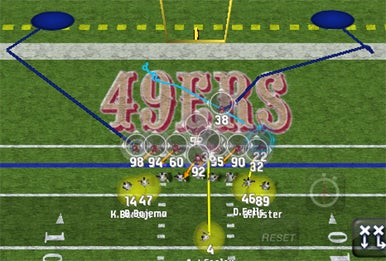 After picking your plays in both defensive and offensive mode, you gain control of a player by using a small joystick that appears on the bottom left of the screen. As apart of the offense, you actually get to use the joystick quite often, as it is the main way to control a quarterback or receiver. The stick is backed up with small buttons on the right side of the screen that, when pushed, will allow your player to speed up, spin, get rid of the ball, and slow time. Slowing time is very useful in allowing you to quickly change your player to better match an unexpected defense.
Throwing the ball is easy—it's just a matter of touching your finger to the right receiver on the screen. Receivers will light up in red, yellow or green indicating the level of coverage on the player. A green player is the easiest to throw to, and a red player is the hardest. Even with open receivers, you'll still have the ocassional dropped pass, interception, or sack—depending on how much time you waste in the pocket and the overall skill of your QB.
One element of football that often goes unappreciated is kicking. In Madden NFL 11, it's one of the more challenging aspects of the game. A kick depends on your ability to draw a path with your finger of where the ball should go. It's not as easy as it seems and I had some difficulty mastering it. A slight curve of the finger can mean the difference between a field goal and a pulled ball.
Not surprisingly, playing defense isn't as fun as playing offense. You hardly have a time to control your player and tackle a receiver before a down is over. Unlike Madden NFL 10, you do have the ability to slow down time during defensive mode and readjust your players accordingly to match the offense; still, playing defense isn't very exciting. Even with the additional of hot routes and the increased level of control, Madden NFL 11 shines more on the offensive side. Even if defense wins championships.
After making a play from either side of the field, you are bound to hear the great John Madden himself making a comment on your play. Like every Madden game, the famed football guru's comments are limited and can get extremely repetitive. In fact, all announcements in the game can get repetitive, and from time to time announcers can be quick to call a play before it is actually over. Luckily, you can tune any announcement out by adding music from your iTunes library to game play. Adding music is well worth it and the option is easily found in the game's menu.
Graphically, Madden NFL 11 uses the graphical abilities of the platform well. Comparatively, the game's graphics are a step forward, with noticeable improvement in the player models. Team stadiums and players are not too detailed, but just enough. Unfortunately, though you have the option to play games in different conditions, such as night, day or snow, the conditions seemed to have little affect on your gameplay.
Madden NFL 11 for the iPhone and iPod Touch isn't the console version of the game. It does however maintain the enjoyment factor of previous Madden games and uses the iPhone's unique capabilities well.
[Sam Felsing is an editorial intern for Macworld.]