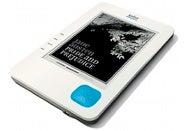 Hotel amenities like free HBO and pocketable soap don't seem to hold the same competitive weight with customers these days. A few hotel chains have begun offering e-readers and books to customers, and Fairmont Hotels & Resorts has tossed its hat into this growing ring with a new partnership with e-reader maker Kobo and Random House.
On Wednesday, Canadian-based Kobo announced that 10 branches of the Fairmont Hotels & Resorts around the world now offer its Kobo eReader to President's Club guests (membership is free). So that users are not stuck staring at blank displays, Kobo and Fairmont also partnered with Random House to make thousand of titles from the publisher's two-million-plus book library available to hotel guests for free (that should save some space in the suitcase). Free titles include Confessions of a Shopaholic, Darkfever, and The Armageddon Factor.
Guests can also opt to create an account with Kobo's e-book store to purchase books during their stays. These books will remain available once guests leave via Kobo's apps for other devices, including iPhone, iPad, BlackBerry, and Android. Guests can log out of the Kobo eReaders at the end of their stays to erase any purchases from them, but Fairmont employees will reset devices when they are returned as well.
The Kobo eReader is now available at the following Fairmont Hotels & Resorts branches: The Fairmont Hotel Vancouver; Fairmont Pacific Rim;Fairmont The Queen Elizabeth; The Fairmont Banff Springs Hotel; The Fairmont Royal York; Fairmont Le Château Frontenac; Fairmont Château Laurier; Fairmont Turnberry Isle; The Fairmont Copley Plaza, Boston; and The Plaza, A Fairmont Managed Hotel.
Fairmont is not the first business to turn to gadgets for a competitive edge. Manhattan's Algonquin Hotel offered the Kindle in December 2008, and Miami's EPIC Hotel went with the Sony Reader in July 2009. Bluebox Avionics, an inflight entertainment services provider, even announced in May that it would build an iPad-based system for airlines, though it has not yet named which airline(s) have signed up.
Note: When you purchase something after clicking links in our articles, we may earn a small commission. Read our affiliate link policy for more details.