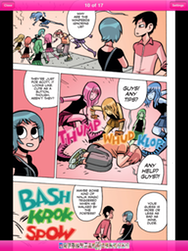 True Scott Pilgrim appreciation can take many forms. You could watch the movie, opening this week in the U.S. You could listen to the soundtrack, available on iTunes. You could play the 8-bit inspired brawler on PlayStation Network and soon to be on Xbox Live. Or you could revisit the seed itself, the six volumes of graphic novels by Bryan Lee O'Malley—and now, you can read them on your iPhone or iPad.
Oni Press and Comixology have teamed up to offer a universal Scott Pilgrim app, complete with the first chapter of volume one for free. The app uses the same engine that you'll find behind Comixology's own app (as well as as its DC and Marvel readers), allowing you to flip through pages using the Guided View mode or pinch-and-zoom to your heart's content.
All six volumes are available as in-app purchases, with volumes one through five selling for $7 apiece and the final volume—Scott Pilgrim's Finest Hour—going for $12. If nothing else, it's a nice discount off the paper versions, which retail for $12 apiece (though you can find them cheaper online).
Just in case you've been locked in a closet somewhere, Scott Pilgrim follows its eponymous slacker hero on a quest to win the heart of his dream girl, Ramona Flowers, by defeating each of her seven evil ex-boyfriends.
As enjoyable as director Edgar Wright's cinematic version is—I caught a preview showing last week—O'Malley's graphic novels are something special in and of themselves, filled with action, adventure, romance, comedy, and 100 percent of your recommended daily allowance of video game references. You owe it to yourself—and, frankly, to the world—to give them a read.
Scott Pilgrim is a free download and runs on any iPhone, iPod touch, or iPad with iOS 3.1 or later.