Using the file collaboration service from Box.net now means never having to be tied down to a network connection. The company updated its iPhone and iPad app Wednesday, adding the ability to save files for offline viewing, among other features aimed at busy employees.
Box.net provides cloud-based file-sharing and collaboration tools aimed at business users. Its self-titled mobile app, which runs natively on the iPhone, iPod touch, and iPad, gives users mobile access to shared documents.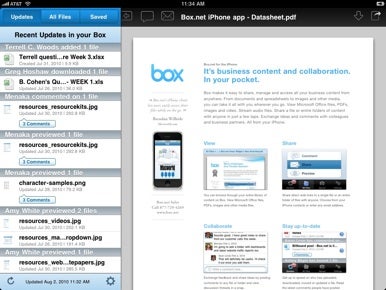 Version 2.3 of the app, released Wednesday, can save files for viewing offline. That's been a top request among users, Box.net CEO Aaron Levie told Macworld. You can mark specific files to keep offline, but Box.net will also cache recent files just in case you forgot to mark one.
Another major feature in this new version is update notifications. If you're viewing a file that a co-worker just edited, Box.net notifies you of the change, updating the file without switching away. If you have added any comments on the file, they will be synchronized back up to Box.net's servers during the update.
Levie also shared a few upcoming Box.net features with Macworld. For the iPhone and iPad app, Smart Playlists will allow users to create custom file filters to focus on specific files from the account, such as "all files edited by Bob," files with a particular keyword in their names, or files that were edited within the last 24 hours. Levie also said that Android and BlackBerry apps are on their way, though he couldn't share a time table.
Box.net for iPhone and iPad is a free update available now in the App Store. Box.net's account prices begin at the low price of free for personal users, offering 1GB of Web file storage for free, and greater sizes available for small fees. Business plans start at $15 per month for up to three users, offering 15GB of space and more features like full-text search, download stats tracking, and desktop sync (a Mac desktop client is on its way). Enterprise plans offer support for more users and greater management control, and customers should contact Box.net for pricing.
When you purchase through links in our articles, we may earn a small commission. This doesn't affect our editorial independence.