Boris FX has released Boris AAF Transfer, a plug-in that allows for the seamless transfer of Final Cut Pro ( ) sequences to Avid Media Composer.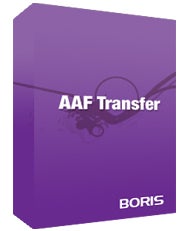 Editors can use Boris AAF Transfer to move an entire live Final Cut Pro program sequence with media, markers, cuts, dissolves, filters, and audio preserved. Users can then edit and finish the transferred sequence in the Avid Media Composer timeline without having to return to FCP—making life much easier for editors working in a collaborative FCP/Avid editing environment.
Boris AAF Transfer transfers still images and video clips while retaining alpha information, preserving the alpha channel so that transferred sequences appear exactly the same in Avid as they did in FCP. It also features Boris Continuum Complete compatibility, so when you transfer Continuum filters and transitions that were applied to clips in the Final Cut Pro timeline, all of the key-framed changes will be retained. In order for this to work, however, the same Continuum filter or transition effects must be present in the Avid host.
Boris AAF Transfer also translates many of Final Cut Pro's Motion Tab features, including basic motion, crop, opacity, and speed, and it can convert Final Cut Pro's built-in text generators into Avid Title Tool effects. It also supports many of FCP's time-based effects.
Boris AAF Transfer costs $299, or $399 as a bundle with the Boris XML Transfer plug-in for Adobe After Effects.