After some time on the sidelines of mobile computing, Apple's wholly owned subsidiary, FileMaker Inc., has introduced FileMaker Go for the iOS. FileMaker Go comes in an iPhone/iPod touch version and another for the iPad. The app's feature set is the same on both—something like a "thin client" that serves the needs of database users but omits the design and programming elements found in FileMaker Pro ( ). The app is a real FileMaker client that can run scripts, render layouts and evaluate calculations.
FileMaker Go can store databases directly on the device, but more compelling is its ability to access databases hosted by FileMaker Pro or FileMaker Server. With real-time access one can, in theory, use a database from any place with Wi-Fi or 3G network coverage. Upon opening a file it will load whatever layout (a layout is a particular view of a database) you've specified. While that's a welcome capability, rendering a graphics-heavy layout can be slow, and a view designed for a 22-inch monitor isn't particularly suited to hand-held screens. If you're going to be using FileMaker Go regularly, you'll end up making device-specific layouts.
The experience of using a database in FileMaker Go is remarkably close to FileMaker Pro. Layout objects such as buttons, drop down menus, and tabbed panels just work. FileMaker scripts (akin to "macros" in Microsoft Office) are generally supported though many script steps do not apply to the iOS and some others simply aren't supported. Here too, heavy users may need to modify their scripts to suit the device. Because the iOS lacks the menu bars of traditional operating systems, many commands lie under the various icons along the top and bottom of the screen. Experienced iOS users will get the hang of it right away, while recent coverts from a desktop OS may fumble around for a while.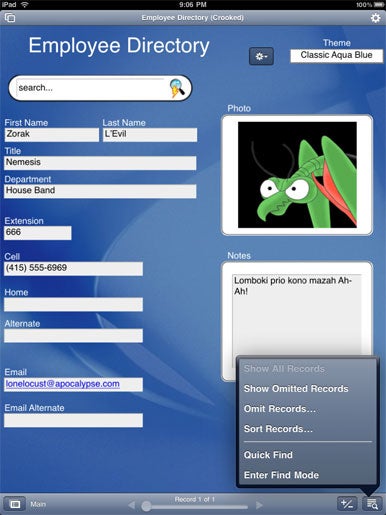 Unlike the long abandoned FileMaker Mobile, FileMaker Go performs calculations. Calculations are part of the fabric of almost every database. Everything from data formatting to user permissions to reporting can rely on calculations and FileMaker Go doesn't require compromise on this score. One thing the old FileMaker Mobile did offer, however, was a degree of synchronization. When accessing a hosted database with FileMaker Go, your changes are recorded and saved in real time. But if you must work on a database from a location without network access, you'll have to save a copy of the file to your device and run it locally. Because FileMaker Go lacks a synchronization feature, it's up to you to figure out how to merge data from hosted and offline versions of a file. To be fair, data synchronization is one of those big bags of hurt so it's hard to blame FileMaker Inc. for not taking it on. The other lament is the lack of support for FileMaker Pro 11's new charting feature. With such beautiful displays on the iPhone and iPad, it's a shame you can't visualize your data.
Performance is decent though noticeably slower than FileMaker Pro running on a desktop or laptop computer. Hosting from FileMaker Pro 11 on MacBook Pro, I tested FileMaker Go on an iPod touch and an iPad, both connecting over Wi-Fi. A graphics-laden layout that took under a second to load in FileMaker Pro took about 4 seconds on the iPad and 12 seconds on the iPod touch. A list layout with only three graphical elements and nine columns of data took under a second on the Mac, 2 seconds on the iPad, and 3 seconds on the iPod touch.
FileMaker Go is a very solid 1.0 release. It's a true FileMaker client with support for almost every major feature of its bigger brother, FileMaker Pro. Nomadic data jockeys will find the few compromises are a small price to pay for true FileMaker mobility.
[Stuart Gripman is the co-author of FileMaker Pro 11: The Missing Manual and founder of Crooked Arm Consulting .]