I had high hopes for Toy Story 3 for iPhone, a game from Disney obviously based on the hit film of the same name. But I use the term "based" loosely, because while the movie aimed to entertain folks of all ages, the iPhone game feels as if it were crafted by a true Disney villain: It's painfully un-fun, and plays mostly like a barely-interactive advertisement.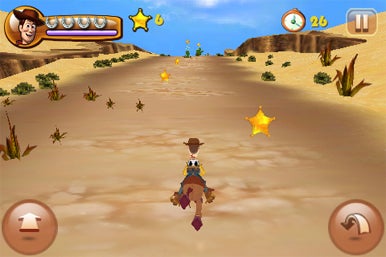 The 119 MB game—and please trust that I call Toy Story 3 a "game" begrudgingly—starts out promisingly enough, with a lengthy, detailed tutorial video showing how to use the app's unique interface. (Annoyingly, the game wants you to watch that video every time you launch it, but I suspect you'll only launch the game once or twice before you delete it from your iPhone.) But once you're ready to use the app, it quickly proves itself disappointing.
Toy Story 3 is free, sort-of. What you get for free (as opposed to in-app and outside-app purchases, which I'll discuss below) is limited to just a few features, the most prominent of which is titled Woody's Greetings. Here, you provide a few details—a name, a talent (like "book learning" or "cowpoke"), and the like—and the Tom Hanks-voiced character speaks a mildly customized greeting. Of course, you can't actually do anything with those greetings, like send them to friends or save them. You listen to them, and then you create another one, or simply move on with your life. My young daughters found this feature tremendously entertaining, for all of two minutes.
When you're done creating customized messages from Woody, it's time to move on to Toy Story 3's other free offerings: You can watch a trailer for the movie, you can use your iPhone as a wireless controller for the Toy Story 3 game for Mac, or you can browse other Disney digital titles, like albums and games. (Note, though, that when I scrolled through the game's menu, it often registered taps when I didn't want them, which was rather annoying.)
Two other main menu options within Toy Story 3 provide links to two separate games. The first, Woody's Wild Ride, is free. The game, which bears no real connection to the Toy Story franchise beyond the fact that it again features the Woody character, is a pedestrian horse-riding game. By tilting the iPhone, you steer Woody and his horse through an unimaginative trail, tapping one button to jump over obstacles and another for "boosts," snagging any coins you encounter. It's fine, but it's nothing I'd intentionally spend more than a minute on. Frankly, it seems entirely appropriate that you spend the game staring at a horse's behind.
The second not-actually-included game linked in Toy Story 3's main menu actually links to a separate App Store download all together, Toy Story Mania. It's a $5 standalone game with no business in the Toy Story 3 app's main menu. On the upside, the $5 game was received positively by our reviewer.
Toy Story Mania comprises several mini-games. Some, like a slingshot game that's a bit reminiscent of Skee-Ball, offer enjoyable gameplay. Others, like the balloon popping game, are dreadfully dull; you simply tap on targets, over and over again. Parents should know that several of the games involve shooting guns, though you're only ever aiming at targets. Each mini-game's connection to Toy Story is tenuous, featuring a character here or there, but lacking any of the trilogy's charm or storyline. Graphics in Toy Story Mania range from atrocious to pretty good, depending on the mini-game. In short, the standalone $5 game doesn't really justify its cost in my view, and the whole experience plays more like a cash-in on a popular franchise.
If Disney's Cruella De Vil, Jafar, Scar, and Ursula ran an iPhone app development shop, they'd sell unentertaining advertising drek masquerading as games—like Toy Story 3. If your kids love the series, I strongly recommend the "read-along" Toy Story e-book apps for the iPad instead.
[Lex Friedman is a regular contributor to Macworld.]
When you purchase through links in our articles, we may earn a small commission. This doesn't affect our editorial independence.