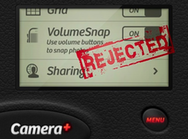 Apple has removed Tap Tap Tap's Camera+ app from the App Store for violating its developer agreement. The highly popular photography app—it ranked among the top-selling apps in the photography category—was pulled following the revelation that it contained a hidden workaround allowing the iPhone's volume buttons to be used as physical shutter buttons.
Tap Tap Tap had previously submitted a version that explicitly featured this ability, which it calls VolumeSnap. While a physical shutter button is something that many iPhone owners and photo app developers have wanted, it's a practice that Apple still frowns upon.
Apple rejected that update, saying in a note that Tap Tap Tap posted on its blog:
Your application cannot be added to the App Store because it uses iPhone volume buttons in a non-standard way, potentially resulting in user confusion. Changing the behavior of iPhone external hardware buttons is a violation of the iPhone Developer Program License Agreement. Applications must adhere to the iPhone Human Interface Guidelines as outlined in the iPhone Developer Program License Agreement section 3.3.7.
It's worth noting that this was, by Tap Tap Tap's own admission, not the first time the developers had submitted an update containing the VolumeSnap feature; that previous version had also been rejected. This time, developer John Casasanta also said that he would be submitting the feature as a request to Apple via its bug reporting system.
Not long after posting the rejection notice on the company blog, the developer posted a tweet explaining how the feature could be enabled by entering a URL into Safari on the iPhone. That tweet was later deleted, but it apparently spread far enough to make it to the folks at Cupertino.
Ironically, Tap Tap Tap's blog post on the rejection of the Camera+ update cited other iPhone apps, in which developers had inserted this feature into their programs:
Apple suspects that these slipped through the review cracks because the developers intentionally hid the feature from their app descriptions and screenshots upon submission, but then added info about them after their apps got approved. When Apple finds out about these incidents, they tend to crack down pretty hard on them, sometimes going so far as completely banning the developers from the App Store. So this is definitely not the smart way to go.
Tap Tap Tap has made more than half a million dollars from Camera+ in two months and it's been positively received. It is Tap Tap Tap's top-selling app by far, but there's no word whether Apple will allow it to return to the store without the hidden VolumeSnap feature. The company's other apps are still available for purchase as of this writing.