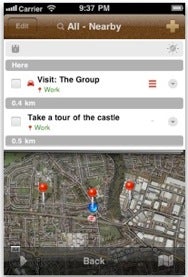 Guided Ways Technologies has given its acclaimed 2Do productivity app a major overhaul for its version 2 update. 2Do is now optimized for iOS 4, and has a revamped interface with new themes and internal layouts, a location-awareness feature, and more.
2Do is is a feature-rich to-do list app that helps you manage tasks. Its interface is broken down into separate tabs for tasks due today, and others that coincide with your customized calendars, like Home, Work, or School. You can group tasks together as Checklists or Projects and then sort those independently. In addition, you can also tag events by keyword or contact, then manage and search them as needed.
Among the many new features in 2Do 2.0 are iOS 4 multi-tasking, Retina display support, and the implementation of Local Notifications in place of Push Notifications when the app is running on iOS 4. As a nice touch, 2Do's application icon badge counter—which you can set to show you tasks due today, tomorrow, and so on—can now automatically update to reflect the number of tasks without requiring a relaunch.
2Do's interface has been revamped from iOS 4 with higher resolution graphics and support for landscape orientation. Listed tasks now display attached notes, audio, and images in-place—just tap on one of the small icons to pull up the relevant view straight from the list display. Also, tasks now include a tappable priority button that lets you easily edit a tasks's priority with a star system similar to the one used in iTunes.
A new feature lets you tag tasks with locations, which 2Do will filter according to which tasks are nearest to you at the tap of a button. In response to popular demand, 2Do's Landscape calendar now marks days with 'future repeating tasks'. The calendar will now display up to 14 recurrences of regularly repeating tasks.
2Do costs $4 and runs on iOS 3 or higher.
When you purchase through links in our articles, we may earn a small commission. This doesn't affect our editorial independence.