At a Glance
Expert's Rating
Our Verdict
Developing a successful game based on a movie franchise is always a difficult endeavor, and this must have been particularly true with a movie series like Toy Story, which has revolutionized animation and consistently won accolade over the last fifteen years.
Nonetheless, the folks at Disney Interactive have a definite winner on their hands. Toy Story 3 (TS3), which comes on a hybrid disk that supports both Windows and OS X—the latter on Intel Macs only—makes full use of all the charm and beauty of the movies to deliver a great gaming experience for children of all ages (including those who are children in spirit only).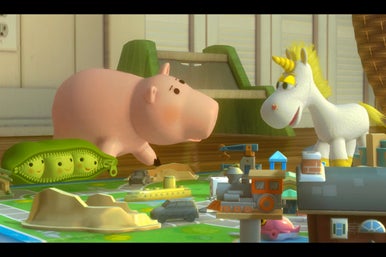 The installation is relatively speedy, even though the game clocks in at around 5GB, and is helped along by a big-band rendition of Randy Newman's theme from the movies (alas, no Robert Goulet vocals). The game menus are simple and well-designed.
TS3 can be played in one of two modes: in story mode, the game loosely follows the movie's storyline (with a few twists and turns thrown in for good measure) with a series of missions and challenges that can be played as one of three characters (Woody the sheriff, Buzz Lightyear the space ranger or Jessie the cowgirl).
Progressing through the story mode earns the player gold coins that can then be spent at Al's Toy Barn, where all sorts of collectible items and mini-games can be found for sale. The latter can then be played in the game's "toy box" mode, and features arcades, races and much more. These are handy for learning TS3's mechanics and can be played cooperatively.
All throughout, TS3 features a colorful, saturated and smoothly-animated 3-D look that is appealing to the eye without being overbearing. Gameplay is fun and simple for both children and adults, even though at times some of the contextual commands don't kick in as quickly as they should (both our testers have inadvertently kicked Bullseye the horse so many times while trying to mount him that we are somewhat surprised we didn't get a visit from the SPCA).
It is also possible to control the game using an iPhone or iPod touch (Disney makes the software for these devices available for free from the App Store) connected to the Mac via Wi-Fi; this results in an oddly satisfying experience that is far superior to using the keyboard and mouse—at least once you've gotten used to it.
Gold can also be spent acquiring a number of collectibles, which vary from decorations for Andy's room to special characters that can be used throughout the game. While adults are unlikely to find this particularly interesting (some special artwork from the movie would have been much better), children are going to love the opportunity to play around without the pressure of having to win.
Toy Story 3 requires OS X 10.5.8 or higher running on an Intel Mac.
[Marco Tabini is a regular contributor to Macworld. Six-year-old Daniel Tabini contributed to this review by consistently beating his dad at the game.]
When you purchase through links in our articles, we may earn a small commission. This doesn't affect our editorial independence.