Spacetime Studios has released a major update for its free 3D mobile online RPG, Pocket Legends. The Pocket Legends 1.3 update brings the game closer to true MMORPG status with a World Map, a Quest system, improved multiplayer support, iOS 4 multitasking support, and more.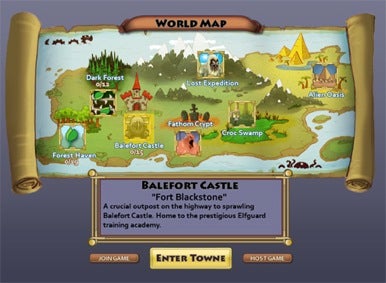 Pocket Legends is an online role-playing game (RPG) complete with dungeons, character skill trees, items and loot, and cooperative gameplay. You play as one of three classes—Archer, Warrior, or Enchantress—and slay zombies, skeletons, and other enemy creatures in order to gain skill points and level up. As you level up, you gain new skills specific to the class of character you're playing. You can play single player, but the game's main appeal lies in its online play, which lets you battle alongside other human players.
The latest update of Pocket Legends, dubbed Pocket Legends: Adventures, dramatically changes the way the game is played. While Pocket Legends previously relied on a Battlenet-like host / join screen for players to manage their online play, this has been replaced with a more immersive and MMO-like World Map that players can use to enter different Townes and embark on different quests—though you can still access the underlying host / join screens if you'd like.
As of launch, three Townes are available—Forest Haven, Ursan Weald, and Fort Blackstone—with more Townes and quests to be released as they are built. All Townes are common areas that hold up to 25 players, and players can travel to different Townes via the world map or by using travel portals within a Towne.
The new Quest mode is an important part of the game's new architecture, providing story, motivation, and rewards for exploring the game's various new destinations. Quests are managed through a Quest Journal that keeps track of your progress and allows you to instantly travel to your Quest's destination.
The other main update in Pocket Legends relates to performance optimization. Spacetime Studios has completely stripped down and rebuilt most of the art in the game, optimizing how the game's 3D engine constructs elements in the game. This allows for increased game performance on your device, and will, down the line, allow for greater character customization. For now, however, you are only able to customize your character with a few different hats.
Other additions in Pocket Legends 1.3 include support for stashing gold, iOS 4 multitasking support, and support for Quick-Joining campaign dungeons and PvP arenas.
Pocket Legends is a free hybrid app that runs on iOS 3.0 or later.