Editor's Note: The following article is reprinted from Macworld UK. Visit Macworld UK's blog page for the latest Mac news from across the Atlantic.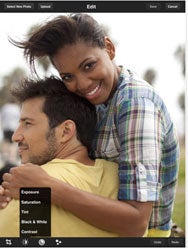 Adobe has renamed and updated its popular free iPhone application Adobe Photoshop Mobile.
Adobe Photoshop Express, which lets users quickly edit and share photos from Apple's mobile devices, adds support for the iPad in the 1.3 update now available from the App Store. Users can choose from a variety of one-touch effects, or simply drag a finger across the screen to crop, rotate or adjust color. Artistic filters such as Soft Focus or Sketch are also available, while a copy of your original file is always saved.
Features specific to iPad include: support for portrait and landscape orientations; redesigned online, edit, and upload workflows; the ability to work on multiple photos in sequence from within a single workflow; a redesigned organizer view with simplified album sharing; updated icons and visuals that make it easier to navigate and use the editor; and the ability to upload to Photoshop.com and Facebook simultaneously.
Adobe notes in the update: "We have received reports of some users having difficulty launching the application on an iPad in landscape orientation with certain productivity and printing applications installed. We are investigating these reports. In the interim, you can work around the problem by launching the application in a portrait orientation on the iPad. We are continuing to investigate and will post an update to address these issues as soon as possible."
The 1.3 update also comes with a new tweaked user interface and a number of bug fixes and performance improvements.
Available from the App Store, Adobe Photoshop Express is free and requires the iPhone OS 3.0 Software Update or later.