Pandora is a wonderful service for discovering new music that matches your tastes, but it does little to capitalize on the iPad's glorious 9-inch display. Enter MySpace Music Romeo, an iPad app that lets you easily play, discover, and save music videos in a manner similar to Pandora Radio.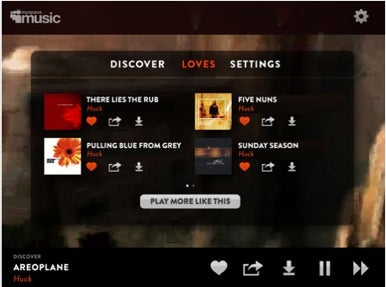 When you first run MySpace Music Romeo, the app asks you to select a musical genre as well as your current mood, such as Happy, Sad, Naughty, Partying, and so forth. The app will then start streaming music videos from MySpace's vast catalogue of artists that match your selected genre and mood. If you like a video that's playing, tap the Love button, and Romeo will fine tune its playlist based on your preferences. If you don't like a video, you can skip it and move on to the next one.
MySpace Music Romeo uses algorithmic technology from music aggregation Website We Are Hunted to make sure that the videos it feeds you are not only relevant to your taste, but also to the current social network and blog scene. A free app, Romeo generates revenue through iTunes sales and occasional video commercials.
MySpace Music Romeo runs on iOS 3.2 or higher.