What happens when you mix eccentric family members, an instigator best friend, and an annual birthday quest? The Jim and Frank Mysteries: The Blood River Files, a puzzle-based adventure game from Chillingo.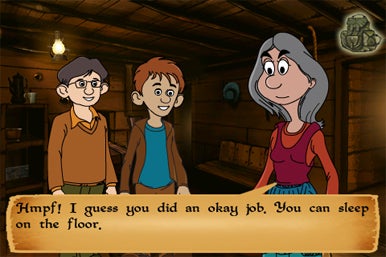 Every year on Jim's birthday, Grandpa Stevenson challenges him to complete some sort of elaborate quest, with each year becoming progressively more difficult. When the game begins, it's Jim's fifteenth birthday, and he's waiting for his best friend Frank to show up so they can get going on this year's adventure.
The first thing you notice about Jim and Frank is the incredible, flawless animation. The hand-drawn, cartoonish graphics have been compared to the Professor Layton series for the Nintendo DS, another puzzle-driven adventure title.
It takes a few minutes to realize that Jim and Frank isn't nearly as complicated as it appears. There are constant dialogue boxes between the characters, laying out the story line and moving the plot along. You can tap them to skip when you get the idea.
It's not clear where or when the story is taking place, because though Jim and Frank sport sweaters and khakis, they seem to be traveling to Medieval villages and encountering characters more suitable to feudal England. Chronistic crises aside, it's fairly easy to progress. People and objects of interest are highlighted, making them easy to pick out and tap for more information. For example, you can tap a small boot that appears in the lower left-hand corner of the screen to reveal a set of footprints, which you also tap, which will physically advance you to the next scene.
Periodically you will be asked to complete puzzles and tasks, 60 in all, which are the meat of the game. These can be everything from mazes and simple math problems to tests of hand-eye coordination. You win gold nuggets for a job well done, which contribute to your overall game score. All of your acquired objects are saved in the backpack in the upper right-hand corner, which also keeps stats, a "save" button, link to the main menu, and an index of the puzzles you've completed.
There are various "cue cards" to collect throughout the game, and once you have, you can unlock the bonus puzzles as an extra. Chillingo claims that Jim and Frank boasts over 20 hours of gameplay, and that sounds pretty accurate. Though there is no multiplayer option, the game holds four profiles and is enabled with online leader boards through Crystal, if you need to feel a little competition.
Though the game seems geared more toward the elementary school set, it's challenging and multidimensional enough to entertain adults as well. Make sure to download the Jim & Frank Mysteries soon, before that incredible $1 introductory price goes up.
[Macworld contributor Meghann Myers wishes she had a grandfather who spent the entire year planning a birthday mystery. Or maybe not.]