Photo booths are a vestige of an older time. These days, you may run across one at the mall or on a summer stroll down a boardwalk, but more often than not, fun little moments are captured by the phone in your pocket instead of sliding behind the photo booth curtain.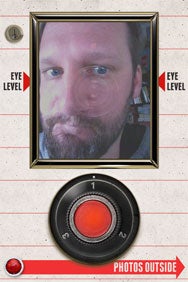 IncrediBooth by Synthetic gives you the chance to experience some of the vintage charm of a traditional photo booth from the comfort of your iPhone 4.
IncrediBooth relies on a front-facing camera, so the app only works with Apple's latest smartphone. When you launch the app, your screen suddenly transforms into the interior of a photo booth. The top half of the screen appears to have a framed mirror, complete with eye level markers on each side. While IncrediBooth gives the impression that you are looking into a mirror, the app is actually using the front camera and projecting your image into the "mirror" on the screen.
Since you're looking at directly at the camera and the screen at the same time, it's really easy to grab a friend and hold the camera out in front of you. You'll be making goofy faces in no time, even without the privacy of the curtain that a real photo booth provides.
Below the mirror, you'll find a large twist knob with a red button in the center. Turn that knob to pick from three settings—black-and-white, as well as two lo-fi vintage looks. (Turning the knob can be a bit confusing at first—make sure to use two fingers, as if you were twisting a real knob.) When you hit the red button after choosing your setting, you hear a click and a red light behind the mirror blinks to warn you to get ready. You'll also hear an audible shutter sound, as the app snaps each of the four frames. After IncrediBooth takes its photos, you hit the arrow in the lower corner to pick up your familiar four-frame photostrip "outside" the virtual photo booth.
The app won't save photos to your camera roll by default. When you click on an individual strip, you have the option to save the whole strip, or an individual frame, to the camera roll, or share it via e-mail or Facebook.
Synthetic has earned a reputation for beautifully detailed apps with apps like Hipstamatic and SwankoLab, and the trend continues here. If you have an iPhone 4, IncrediBooth is a fun way to get a vintage look with the latest technology.
[Macworld contributor Beau Colburn lives in Boston and posts iPhone photos on his site Snap different.]