Yazsoft has updated ShareTool, its remote network access tool, with a number of new features, not the least of which is iTunes Home Sharing.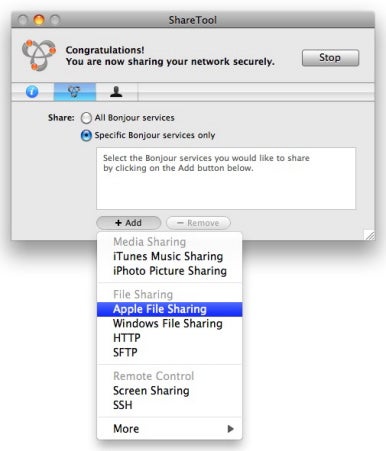 ShareTool is akin to LogMeIn, Slink, and Apple's Back to my Mac in that it lets you use your Mac to remotely access your home network, Macs, and other connected devices while on the other side of town or the country. You can print something on your home printer, grab files, or use screen sharing to trick your family into thinking that there truly is a ghost in the machine.
ShareTool 2.1 has scored a number of new features, though iTunes Home Sharing probably leads the pack. You can now stream music and videos from your home iTunes library across the Web. The new version also introduces the ability to run ShareTool as a background daemon, which means that your user doesn't need to be logged into your Mac at home for you to access its resources.
Also new in version 2.1 are interface enhancements to managing the services that you make available remotely and even improved support for PowerPC Macs—how often do you see that these days?
ShareTool 2.1 is a free update to existing owners of version 2.0, and Intel or PowerPC Macs running at least Mac OS X 10.5.8 are required. You need a license for each Mac you use ShareTool with (one for your remote Mac, a second for the Mac at home you want to access), so multi-license packages start at $25 for two licenses. Additional licenses can be purchased for $15 each.