We Farm is ngmoco's most recent agrarian-themed strategy app out on the iPhone, iPod Touch and iPad. If you're a fan of FarmVille or ngmoco's previous FarmVille-like game We Rule, you'll get a kick out of the playful and straightforward We Farm.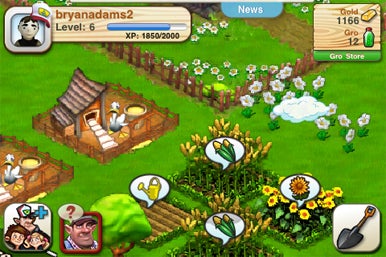 The game's entry screen sets up the atmosphere: some banjo picking, whistling and a harmonica add to We Farm's opening score, which I find rather catchy. The game continues with the small farm stereotypes, from the slow-speaking, trucker-hat wearing farmer to the obsession with getting a blue ribbon at the county fair.
We Farm's big selling point is that it's free. Free to download, free to play and free to level up. To raise a successful farm, all you need to do is put in about the same amount of care you gave to your Tomagotchi in the 1990s. For these reasons, it isn't too much to pick up and play even if you've neglected your farm for a week or so— it's not like you've invested actual money in your digital farm. Just hard finger-breaking work.
If you're familiar with We Rule, you'll find We Farm very recognizable. You start out with simple plots of farm land that you can use for cheap cash crops, and as you level up, you have access to increasingly sophisticated farm structures, foliage, and crops.
There is also an animal component to We Farm, and this is where the Tomagochi love comes in. As you raise your animal, be it a duck, a goat or an ostrich, it needs periodic love (I interpret this as petting). The more attention you give to your animal as it is being raised, the better it will do in the county fair, where you can win the coveted Blue Ribbon. This is a cool idea (no one wants a sad, neglected duck), but it makes for a frustrating farm experience. Unless you check into your farm every few minutes over the course of the day, your animal won't get all the love it needs to be a winner. At least with crops, you can choose longer growing plants like tomatoes so that you're not forced to harvest and re-plant every few minutes. For some of the items on your farm, the app can send you push notifications if you're doing something else, like working on an actual farm.
Like We Rule, you can earn or buy (with real money) a magical Grow potion that rushes the building of structures and the growing of crops and animals. You can even use the Grow to bribe your chickens and make them think that you petted them for an hour straight! A potion that makes animals hallucinate and plants grow super fast? When did the FDA let that one get through?
Anyway, the strengths of We Farm are in the customizability of your farm (there are multiple ways to level up, so you can focus on the farm activities you enjoy most), the aesthetic add-ons which include rivers, picket fences and trees, and the PLUS network, which allows you to trade with and help neighbors. A drawback to the reliance on the PLUS network and the game's remote servers is that you can't play We Farm unless you're connected to a wireless connection or a 3G network. We Farm's social network hasn't reached the epic proportions of the FarmVille network, but that's probably as it enhances the image of the lone farmer, alone on his farm, working with the earth. Of course, in that romantic hee-haw image, I bet you didn't picture the farmer using a plutonium-like green formula to make his crops and animals grow to completeness within 30 seconds. But you get the idea.
[Bryan Schell is a frequent contributor to Macworld.]