Spider: Bryce Manor HD is a puzzle and mystery game for the iPad where you play the part of the eight-legged arachnoid that has a mansion to explore and a multitude of insects to eat. You go about building webs to trap the doomed critters and then feast on them once they fall prey to your machinations.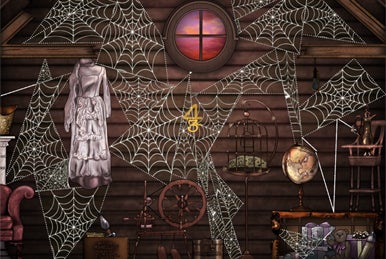 The game starts you off by taking you through the basics of building a web and trapping insects in it. As you progress through the 38 levels, you come across new kinds of insects that require you to employ more sophisticated tactics in order to make a meal out of them.
While the bugs in the early stages have a set pattern of flight and can easily be trapped by spanning a web across that path, the cleverer ones vary their flight patterns and actively steer clear of the parts you have already webbed. There are other bugs that do not fall prey to webbing and you have to jump on them to trap them and yet others actually escape from the web if they are not ingested quickly.
One other hurdle in Spider: Bryce Manor HD is that, much like the comic-book superhero you share your name with, you only have a limited amount of silk and must ensure a constant supply of insects in order to recuperate what you have used in spinning your webs.
The gameplay in Spider: Bryce Manor HD is well thought out and the jumping and web-spinning seems very natural. The hidden parts of the levels that you have to discover also add a little unpredictability to the game. The only thing I missed was the ability to dangle from a thread of silk, as real spiders do.
Spider: Bryce Manor HD, though thoroughly two dimensional, boasts some fine artwork. The design of Bryce Manor is very stately and all the levels seem like they are parts of a coherent whole. Even the music that goes along with the visual art is very fitting, although it does tend to be somewhat repetitive in the later levels.
One welcome feature in this game is that it supports both landscape and portrait orientations and works equally well in both. It's the rare iPad game that gels so thoroughly with Apple's orientation-agnostic philosophy for the device and Tiger Style, the developer of Spider: Bryce Manor HD, needs to be lauded for making it happen.
Even with the high quality design and great controls, however, Spider: Bryce Manor HD falls short as a game. You can't help but feel bored as you go about doing essentially the same thing for levels on end. The levels do become more challenging gradually but this is not a tough nut to crack even at the most difficult stages of the game.
If you are looking for a—dare I say— relaxed way to pass the time on your iPad or just a game for your kids, Spider: Bryce Manor HD is a nice addition to your home screen. It is not the most frenetic game on the App Store and is not ideal for marathon two-hour sessions, but if played in short bursts, it may end up being hours of fun.
[Aayush Arya is a contributor to Macworld.]
When you purchase through links in our articles, we may earn a small commission. This doesn't affect our editorial independence.