At a Glance
Expert's Rating
Our Verdict
Editor's note: The following article is the final entry in Macworld's GemFest 2010 series that started in July. Visit the Mac Gems homepage for a list of past Mac Gems.
Choose only ten Mac Gems? Are you kidding? As Macworld's resident Gem-meister, I not only test every Mac Gem, but I also end up using many of them regularly, so choosing a list of ten must-haves is an excruciatingly difficult task. (The last time I tried to come up with a list of "Gems I'm thankful for," I ended up with two articles covering 31 products!) But if I'm forced to choose the First Ten Gems I'd Install On A Desert Island—or however you want to phrase this cruel hypothetical—here's my current list [Editor's note: Yes, Dan was forced by his editor to stick to ten Gems.]:
LaunchBar : I list LaunchBar first because it's my Numero Uno of must-have Gems. From instant app launching and document opening, to quick Website searching, to easy script running—all with just a few key presses—LaunchBar makes me and my Mac's programs more productive. And in a pinch—or, say, if I was forced to choose a limited number of must-have programs—LaunchBar can even take the place of a multiple-clipboard utility such as PTH Pasteboard Pro. (See how I squeezed in a mention of another Gem?)
1Password : This combination of a standalone program and a seamlessly integrated browser add-on lets you store passwords and other personal info in a secure database that's accessible across all your browsers (and syncs with companion iPhone and iPad apps). I love that you can also save multiple logins for any site, as well as store multiple identities (name, address, etc.) and credit-card records that you can automatically enter on any Web page.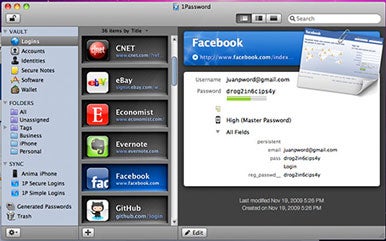 ClickToFlash and BashFlash : While technically two products, these two work so well together that I'm officially designating them two sides of the same Mac Gems coin. ClickToFlash lets you selectively choose which Flash content Safari should display, blocking everything else. BashFlash monitors the Flash content you do allow, letting you kill Flash—without disturbing Safari or other Web content—if it gets out of hand.
Default Folder X : Each year, I wonder if an update to Mac OS X will render Default Folder X unnecessary. Each year, I continue to be thankful that Default Folder X exists. This utility dramatically enhances Open and Save dialogs, letting you assign a default folder to each application and making it easier to access recently used, favorite, and currently open folders. It also remembers the last folder and file you accessed in each program—something the stock Open and Save dialogs still can't do.
DocumentPalette : This nifty utility lets you create a new document in the current folder by pressing a keyboard shortcut—you just choose the type of new document from the palette that appears. When you create as many documents each day as I do, the convenience quickly adds up. UPDATE: Sadly, it appears as if DocumentPalette may no longer be available. And my favorite alternative, NuFile, doesn't currently work with Snow Leopard.
Dropbox : While we haven't (yet) officially reviewed Dropbox, it's most definitely a Gem. Thanks to its seamless Finder integration, no other service or program I've tested makes it easier to keep data in sync between my computers and to share files with friends and family.
NetNewsWire : In my line of work, I need to keep up with lots of Web news. I've tried many RSS (news-feed) readers for the Mac, but I keep coming back to NetNewsWire, thanks to a great interface and many useful features. It also syncs with Google Reader, which means my feeds and reading progress are synced between my Mac and my favorite RSS readers for iPhone and iPad.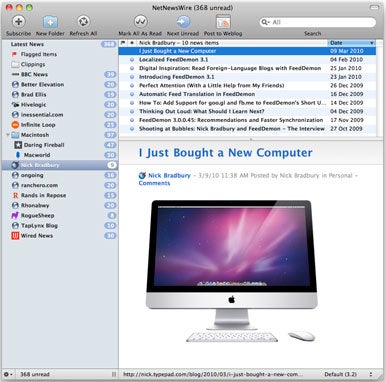 ScreenSharingMenulet : Mac OS X's Screen Sharing feature is a huge boon to my productivity, as I regularly work on multiple computers in my office. But initiating Screen Sharing connections is much more of a hassle than it should be. ScreenSharingMenulet simplifies the process with a convenient systemwide menu listing all local computers with Screen Sharing enabled.
SuperDuper : Although I could rely on Mac OS X's Time Machine backup feature to keep my data safe, I also want a bootable clone—an exact copy—of my hard drive, updated regularly, so I can be back up and running quickly should disaster strike. SuperDuper is my favorite tool for maintaining such a backup.
TextExpander : Without TextExpander, which automatically pastes frequently used text whenever I type a corresponding abbreviation—my daily productivity would plummet. I use it for "typing" boilerplate text, for formatting HTML and Markdown for articles, for remembering complex Web-search strings, and much, much more.
What are the first Mac Gems you install on any Mac you use? Let us know in the comments.
Want to stay up-to-date with the latest Gems? Sign up for the Mac Gems newsletter for a weekly e-mail summary of Gems reviews sent directly to your inbox. You can also follow MacGems on Twitter.
Our 186-page Mac Gems Superguide is a veritable greatest hits of Mac Gems. It's available as a PDF download, PDF on CD-ROM, or as a printed book. Learn more about the Mac Gems Superguide.
[Dan Frakes is a Macworld senior editor.]
UPDATED 8/31/2010, 1:50pm to note availability of DocumentPalette.