Paperless: Lists + Checklists, a $2 to-do list app for the iPhone from Crush Apps, pulls off a pretty impressive feat. It manages to stand out in the crowded App Store task management space—by virtue of its simplicity.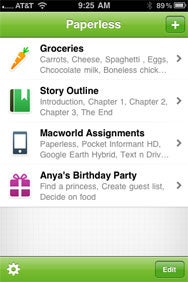 The app is focused on helping you create and manage lists, and without prejudice: You can create to-do lists, shopping lists, bucket lists, or any other kind of list. Each screen within Paperless reflects some subtly clever design decision to make using the app more satisfying.
The main screen in Paperless includes all of your current lists. The cleverness on this screen is twofold: First, you can assign each list you create an icon, and the app offers more than 200 to choose from. That makes it easy for me to identify my grocery list or Macworld assignments quickly (by spotting the carrot or iPhone icon) as my list of lists gets longer. Secondly, each list on the main screen wisely reflects its first several items. That means you don't necessarily need to tap into each list when you're gauging your top priorities for the day. The saved tap is a nice touch.
When you create a new list, you can customize precisely how that list will work. In addition to setting the list's name, you can make it a checklist, where you cross tasks off upon completion. You can also decide whether new list entries should appear at the top of the list or the bottom. And, as I referenced earlier, you can attach an icon to your list. With so many icons to choose from, Paperless smartly lets you search the images by typing; typing "birthday" finds icons labeled "gift," which is helpful.
Adding entries to your newly-created list is straightforward, but it's the one place where Paperless falls a bit short. The process gets a little tap-heavy if you want to add multiple list items at once; support for more efficiently doing so would be much appreciated.
Each list item sports an extra field for notes, where you add in as much detail as you can tap out on the iPhone's keyboard.
If you choose to e-mail your list, Paperless formats it very cleanly to send on, without needing to exit the app. The app almost makes it easy to resort your list alphabetically, or to reorder the items manually. And if your current list would make a great starting point for a new one, you can duplicate it with the tap of a button. It's also easy to move items between lists.
Two other clever elements of the app are worth noting: You can customize which of your lists (and their unfinished items) should contribute to the app's icon badge—if, say, you want your unfinished chores to count but not your grocery list. Additionally, the app comes preloaded with several lists, including one that serves as an excellent tutorial for getting acquainted with much of the app's feature-set.
It's not easy to manage your life's many to-do lists, and there's sadly still no app where the auto-complete feature actually does your chores for you. But Paperless makes a great replacement for lost Post-It Notes, and makes certain repetitive lists far easier to manage. The free Paperless Lite limits you to 15 list items across all your lists, but should do just fine at convincing you that Paperless deserves a spot on your iPhone.
[ Lex Friedman is a frequent contributor to Macworld.]