Personal computers have been able to synthesize speech for decades; if memory serves, one of the ways to show off the earliest Macs was to type a few words into a program and play them back through the Mac's speaker. So it's a bit surprising that Type n Talk, a one-trick pony from Jirbo that enables you to … type in a word or phrase and listen to a synthesized voice speak it back to you is one of the App Store's biggest hits at the moment.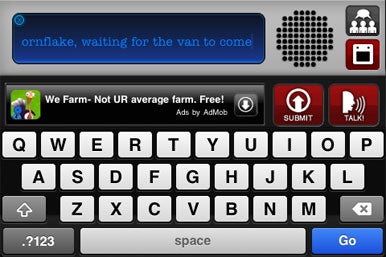 Apart from its core capability, Type n Talk also allows you to submit what you've typed to a central database, which you can also access. In the database, you can find phrases submitted by other users and select them to play back on your iPhone.
Type n Talk comes with one voice, is simple to use, and works fine. The voice is clear, even coming from the iPhone's tiny speaker.
You can buy two additional two voices via a $2 in-app purchase. The app tells you you're buying three voices, but this is a "typo," say the developers at the bottom of Type n Talk's App Store page. It seems unlikely that most users will check the app store for this information, however, and it's unclear why Jirbo has not simply corrected the typo. (Update: After this review was posted, Jirbo contacted us to note that the typo will be corrected in an upcoming update to Type n Talk; the company says that update will also feature Twitter functionality.)
[Jeff Merron is a freelance writer and editor living in North Carolina.]