Although Opera Mini has made it onto the iPhone, another prominent Safari competitor—Mozilla's Firefox—is still missing in action on Apple's iOS devices. Instead, Mozilla developed Firefox Home, a productivity tool for Firefox users to access their desktop-browser data while on-the-go.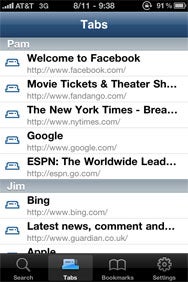 The marquee feature of Firefox Home is the ability to access tabs opened on a desktop computer from an iOS device. The app ties in to Mozilla's Firefox Sync add-on, which promises to automatically sync open tabs, browsing history, and bookmarks from all computers registered under the same account. It's important to note, however, that the app itself does not update automatically, but the desktop browser sends data almost instantaneously. Setting up Firefox Home is a bit of a workaround, but Mozilla does an excellent job of making it as far from cumbersome as possible.
You can search synced tabs, history items, and bookmarks, opening them from within Firefox Home, but the app is in no way a real browser. For one thing, there's no address bar or bookmarks bar within the browser window. The app provides options for opening a Web page in Safari, but it would be much nicer to be able to actually surf the Web and use a full-featured browser after opening tabs, instead of switching back and forth between Safari and Firefox Home.
Ideally, Mozilla would create a Mobile Firefox browser that would actually open all of the saved tabs upon launch and be able to sync with the desktop clients, instead of simply being a repository of browsing data. But for what it promises to do, Firefox Home performs beautifully.
The only question, then, is whether an app like this proves useful in a real-world scenario. It's undoubtedly productive to have access to your desktop browser data on a mobile device, but it's not convenient to have to open or copy links into Safari in order to use a real browser. If you're looking to dump mobile Safari, Firefox Home is not a viable alternative. But if you just want a way to access your Firefox data from your mobile device, there's no better solution.
[ John Fuller is a freelance designer and writer from Texas.]