Color Splash for iPad is the perfect app for desaturating your photos while leaving selected details in full color. Having developed Color Splash for the iPhone, Pocket Pixels has turned its attention to the iPad and that device's larger screen to deliver even more great features to this popular mobile image editor.
To start, you select an image you have saved to your iPad's photo library. Color Splash automatically turns that selected image into a black-and-white photo. To get the color back into the parts of the picture you want, you just use your finger as a brush and paint it back in.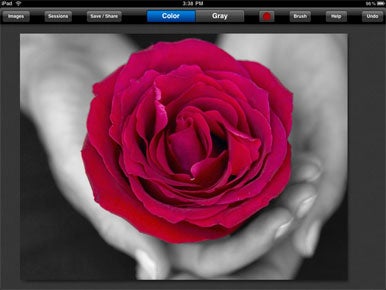 You can pick from two painting modes—Color and Gray—at the top of the screen. When the Color mode is selected, painting brings back the full color of the original image; painting in the the Gray mode desaturates the image removing its color. You can quickly switch between these modes just by double tapping anywhere on the screen. If you make a mistake, there's an undo button so you don't have to worry.
Tapping on the Brush button brings up some options for adjusting the brush size as well as whether it's hard- or soft-edged. You can also choose to have the brush be full strength or partially transparent. In the latter case, each brush stroke only replaces some of the color for a more subtle effect.
While the toolbar is very easy to use, I found myself not even needing it. When I wanted to color a larger part of the image, I just zoomed out using the standard pinch gestures and the brush was larger. When it came time to color the finer details, I zoomed in and the brush was smaller. The app just worked effortlessly, without the need to constantly adjust settings.
Once you're finished with the image, you can save it to the iPad's photo library. You can also save the entire session for latter editing, e-mail the image, upload it to Facebook, or copy it to the clipboard to paste into other documents.
Color Splash for iPad comes with a great video tutorial that is playable from within the app. After watching the short tutorial, you'll know everything you need to get started.
This wonderful app is very easy to use. The interface design keeps the focus on working the image instead of fooling around adjusting settings. It all just seems to work automatically.
[Tim Mercer is a technology enthusiast, graphic designer, and blogger, whose blog, digital-artist-toolbox.com, offers free resources to the digital artist and graphic designer.]