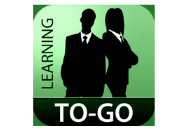 Chicago-based mobile application developer Intersog has added Pocket CFO – Managing Cash Flow to its list of Pad-based financial training classes. The Managing Cash Flow course is designed to teach users the ins and outs of capital management for small and medium businesses.
The course consists of ten full-text chapters of theory based on the works of Jae K. Shim, professor of business at California State University, Long Beach, and author of a number of books on financial management, combined with a number of interactive features like a live search, flash cards, and interactive tests to monitor progress and make sure that the course's topics have been well understood.
These features are all grouped together in a single app designed specifically to run on the iPad and take advantage of its generous screen real estate. Pocket CFO also allows you to share your progress, as well as content from the course, through e-mail, Facebook, or Twitter.
Pocket CFO – Managing Cash Flow requires an iPad running iOS 3.2 or higher and costs $40.
Note: When you purchase something after clicking links in our articles, we may earn a small commission. Read our affiliate link policy for more details.