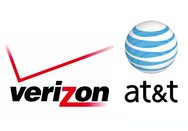 How badly do iPhone owners and owners-to-be want to see Apple bring its phone to Verizon? If a pair of new surveys are anything to go by, an increasing number of them—including current Verizon customers—can probably almost taste it.
First, ChangeWave asked existing AT&T iPhone owners in late July how likely they would be to switch to Verizon. Now granted, it's not the largest survey we've ever seen at just over 200 respondents, but nearly one third of them said they would switch from AT&T, with 13 percent saying they were "very likely,", and 18 percent marking "somewhat likely." Keep in mind that switching carriers is a potentially expensive venture, as it could involve paying a pro-rated ETF (early termination fee) if a customer is still under contract. Also remember that, as of June 1 this year, AT&T joined Verizon in raising its ETFs on new smartphone contracts—including the iPhone—from $175 to $325. Verizon, by comparison, now charges $350.
The typical reasons floated to the top for why customers would defect from AT&T: dissatisfaction with AT&T's network and dropped calls. However, the recent antenna problem that resulted in Apple holding a press conference also rose up the list in a separate ChangeWave survey of reasons why some respondents are unhappy with the iPhone 4.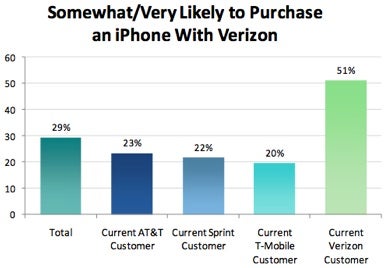 As for current Verizon customers, market research firm Morpace published a study (PDF link) which suggests that the carrier's existing customers may lead the pack when it comes to iPhone hopefuls. Morpace spoke with 1000 (total) AT&T, Sprint, T-Mobile, and Verizon customers to find that, among those that would purchase a Verizon iPhone, more than 51 percent are already Verizon customers. Next in Morpace's results: 23 percent of AT&T customers would switch for a Verizon iPhone, followed by Sprint customers with 22 percent, and T-Mobile customers at 20 percent.
Of course, the iPhone-on-Verizon rumors that just won't die are at least a little ironic, considering that Verizon is said to have rejected the original iPhone, forcing Apple to make wireless history with AT&T instead. But speculation picked back up earlier this month when AT&T's quarterly SEC filing deemphasized the iPhone by not really mentioning it, instead proclaiming that the carrier offers 18 different smartphones in order to reduce "dependence on any single handset."
32GB iPhone 4 (GSM, AT&T)
16GB iPhone 4 (GSM, AT&T)
Note: When you purchase something after clicking links in our articles, we may earn a small commission. Read our affiliate link policy for more details.