You've probably heard of Robot Unicorn Attack by now. An internet meme for months, this Adult Swim developed application first broke through as a free flash game. Now, this insanely difficult platformer is on your iPhone and iPod Touch in all of its ironic glory.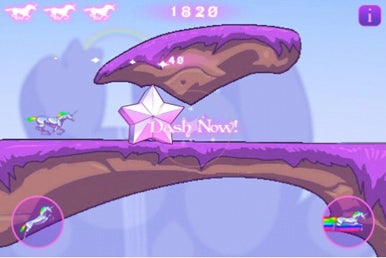 Considering the game itself is so simple, and has similar characteristics to games like Canabalt, the fact that it has gained a cult following is saying a lot. Adult Swim has other games on its site, including Victorian BMX, Wine Pong, and Amateur Surgeon that vary from straight parodies to just tasteless fun. But Robot Unicorn is the crown jewel of Adult Swim's flash empire. At the root of Robot Unicorn's appeal is a great mixture of over-the-top kiddish iconography (like unicorns, rainbows, and dreams) and then bizarre elements like robots, the band Erasure, and a brutally-difficult gameplay conceit.
In Robot Unicorn Attack, your ultimate goal is "to make your wishes come true." While that is a pretty lofty goal that may consume the majority of your adult life, the unofficial goal is to not crash and die a fiery death. You are given three lives to run and jump (using the left jump/double jump button), through one enormously long level. There is no real end to the game (and thus, you'll never truly make your wishes come true). The game only gets harder, the longer you survive. The longer you last, the faster you will go. All the while, you try to gain as many points as possible by collecting mini-unicorns and rainbows and smashing through giant white stars using a dash control button on the right.
Of course, not everything is perfect in this fantasyland, since the chances of dying come up often and quickly. Dying mostly consists of smashing into and falling off the cliffs, and running into dirt mounds and unexpected white stars that you weren't ready to dash through. When you do die, your unicorn body will explode and your severed unicorn head cries while your points are calculated. Like an old arcade game, Robot Unicorn Attack is an exercise in how well you remember the level design. If you don't know that a cliff is ahead of you, your reflexes need to be robotically efficient.
If you do find yourself not dying, not only are you on your way of making your dreams come true but dolphins jump from the bottom to come run with you and overwhelm you in a mythical and fantastical smorgasbord of all that is good in the world. Although the dolphins don't technically make any sense because there's no ocean anywhere—this is Robot Unicorn Attack we're talking about— and the land of sense is where dreams go to die.
The soundtrack is also an important element of the game's experience. Just as Final Fantasy VII's soundtrack has achieved a cult following, so has Robot Unicorn Attack's. The chorus of Erasure's campy and strangely catchy tune " Always" plays on repeat throughout the game. You can turn it off, but the song will be stuck in your head for days anyway.
Critics may complain that the game is overly simiplistic and the iPhone version, which costs $3, is essentially the same as the free flash version. While the price may be steep, Robot Unicorn can survive multiple plays because of its winning combination of humor, color, and weirdly difficult gameplay. It's a great game to keep as part of your overall stock, and I find myself whipping it out at the train station every time I want to play a light game that doesn't require a lot of commitment or thinking. If you're not completely sure if Robot Unicorn is right for you, try it out at adultswim.com and play it for free. And even though this game became popular in an ironic way (as in, "You have to check out this game man, it looks like Lisa Frank threw up on my iPhone"), once you get it, you know at least your wish of being awesome will come true.
[Lynn La is a contributor to Macworld and is currently chasing her dreams in New York.]