Beyond snapping the occasional shot of a whiteboard, there are few times to carry a point-and-shoot camera with you into a conference room. But now the Nikon Coolpix S1100pj—one of two just-announced cameras from Nikon—has a new reason to sit in on your business meetings. Here's why.
Nikon Coolpix S1100pj: Built-in projector and business features
The 14-megapixel Nikon Coolpix S1100pj has a a front-mounted projector with a brightness rating of 14 lumens. The camera replaces last year's innovative S1000pj, and In a new twist, the S1100pj offers a USB-in port that lets you use the camera's built-in projector as an LCD projector for Windows and Mac computers.
According to Nikon, the S1100pj's built-in projector is powerful enough to project image slideshows and videos from its SD/SDHC card or presentations from its USB-in connection at distances of up to 7 feet.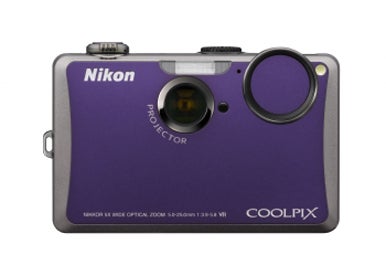 The 14-lumens brightness rating is solid for a projector of this size: Last year's S1000pj had a brightness rating of 10 lumens, while most standalone pico projectors have brightness ratings in the range of 10 to 12 lumens range. That said, it does fall way short of the 1000-and-higher lumens ratings of full-size portable projectors.
Another business-friendly feature for the S1100pj is its 3-inch-diagonal touchscreen LCD, which can be used like a telestrator to draw on images projected from the camera. The camera also offers a number of transition effects and the ability to add music to its in-camera slideshows.
On the camera side of the equation, the Coolpix S1100pj is one of Nikon's first point-and-shoot cameras to offer the company's new Expeed C2 image processor, which the company claims has been optimized for low-light performance.
The Coolpix S1100pj has a 5X optical-zoom wide-angle lens (28mm to 140mm), a combination of hardware- and software-based image stabilization, motion-tracking autofocus, a wide array of scene modes, 720p high-definition video recording, and a range of image-editing modes that include tilt-shift and fish-eye lens simulators.
Available this September in black, silver, green, and violet, the Coolpix S1100pj is priced at $350.
Nikon Coolpix S5100: Quick on the draw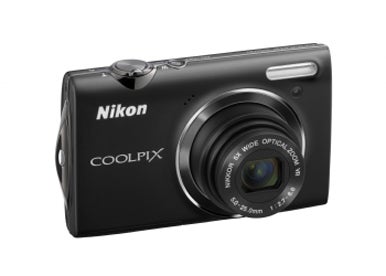 Also new from Nikon is the Coolpix S5100, which is built around the new Expeed C2 processor like theS1100pj. Nikon is touting the S5100's fast start-up time and lack of shutter lag; the company claims that you can turn on the camera and snap a shot within 0.75 seconds.
The 12-megapixel S5100 offers a 5X optical zoom lens, dual optical/digital image stabilization, motion-tracking autofocus, and an in-camera mode that detects whether the camera is connected to a tripod and adjusts exposure settings accordingly. The S5100 also records 720p high-definition video at 30 frames per second.
Due in October, the Coolpix S5100 will be available in black, blue, pink, and purple for $180.
Nikon Coolpix S1100pj Compact Camera