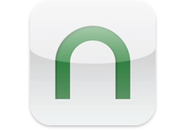 Barnes and Noble on Tuesday released an updated version of its awkwardly-named BN eReader for iPad app. Even better, the company rechristened the app as simply Nook, after its e-reader of the same name. And best of all, there's now a new Nook for iPhone app as well.
The new iPhone app is iPhone 4 Retina display-ready, and supports iOS 4's multitasking, too. Like its big brother on the iPad, Nook for iPhone offers tremendous levels of customization for the books you read—including not just the font style and size, but also its color, the background color, the line-spacing, the justification, the margins, and more. Both Nook apps also integrate with Barnes and Noble's LendMe technology, that lets you share eligible e-books with one friend, one time.
Nook for iPad now offers the ability to rate your books (with 1 to 5-star ratings, much like in iTunes), and then to sort your books by your favorites. The updated versions of the app also now include a user guide and an in-app tutorial. Of course, if the user guide is itself an e-book and you're unable to figure out how to, uh, read an e-book, you likely have problems that no in-app tutorial can solve.
Both Nook apps are free. The iPad version requires iOS 3.2 or later; the iPhone version supports iOS 3.1.2 as well.