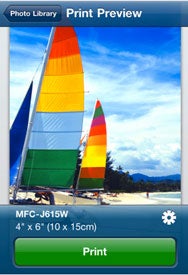 Printing from an iOS device can be a bit of a challenge for the iPhone, iPod touch, or iPad owner who wants to get a document off their touchscreen and onto a printed page. It's not that the process is particularly difficult; it's just that Apple hasn't built in an easy way to do it. Instead, you'll have to turn to an app from a third-party developer. Fortunately, there are a lot of apps that can help you print from an iOS device; unfortunately, most of them will require you to part with a hard-earned dollar or several.
Of course, if you own an all-in-one printer from Brother, you may be able to print from your iPhone, iPod touch, or iPad without having to spend a time. The hardware maker recently introduced iPrint&Scan to the App Store. The free download lets you print photos and documents from your mobile device to a Brother inkjet all-in-one printer over a local wireless network. You can also scan documents and photos directly to your iOS device.
Brother iPrint&Scan is a hybrid app that runs on either the iPhone or iPad. It requires iPhone OS 3.0 or later. Brother includes a list of compatible printers on its Website.
Brother isn't the only printer maker to offer a free iPhone app to assist with mobile printing. Epson and HP both have offerings of their own, though those two apps are specifically geared toward printing photos.