Calendar is probably near the top of the list of built-in iPhone apps that people begrudgingly do not toss in a folder and bury on a far off screen. Calvetica from Nimble Studio hopes to change that.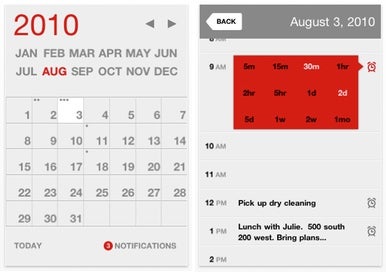 Nimble Studio touts Calvetica's speed, boasting that you can add an event and assign a time with just two taps (excluding the taps it takes to type an event name, of course). Other actions like adding alarms and changing an event's time are also easy on the tapping, and you can easily snooze an event alert for a later time.
Calvetica uses iOS 4's new shared calendar features that allow the app to edit your default calendar as specified in the Settings app. (Because of this, Calvetica will only run on iOS 4.) Nimble Studio told Macworld via e-mail that support for multiple calendars is already the app's most-requested feature, and it's scheduled for the next big update.
Calvetica features a 30-day month view and individual day view (sorry, no week or other views, at least for now), as well as a Notifications area that can display the next few upcoming events that have alarms set. You can add notes to an event and set a repeat time, and as the name suggests, the entire interface is set in Helvetica.
Nimble Studio displays a sense of humor in Calvetica's App Store feature list, highlighting that it "likes long walks on the beach" and "can beat up the other calendars."
Calvetica is available now for $3 in the App Store and requires iOS 4 or later.