Microsoft's Office 2011 Film Festival continues today, with the release of a second video—available on the company's Mac Mojo blog—highlighting marquee features of the upcoming updated suite.
A couple of weeks ago, Microsoft released a first video, that one touting the return of Outlook to the Mac, an expanded template gallery for all apps, and the Ribbon (which will replace the much-derided Elements Gallery).
This latest video turns to three more new features: enhanced compatibility with the Windows versions of these apps; some nice tweaks to Excel; and some in-app photo-editing tools.
Just like Windows
"Compatibility" will be one of Microsoft's big themes in promoting Office 2011—specifically, compatibility between the Mac and Windows versions of the suite. That compatibility comes in a couple of different forms.
First, there's output compatibility. In this latest promo film, Mac Business Unit Senior Evangelist Kurt Schmucker says the test is: Print the same document from Mac Office and Windows Office. Lay one over the other and hold them both up to the light. "If we see any difference, we consider that a bug we have to fix."
Then there's feature compatibility. Microsoft says it wanted to make sure that Mac users who stumbled across the Windows version wouldn't say, 'Hey, why don't we get that?' Hence the return of Outlook, the reintroduction of Visual Basic, and a bunch of other smaller additions to the Mac suite.
PivotTables, Sparklines
Two of those smaller additions will show up in Excel—one of them entirely new, the other significantly revamped.
The new feature is something Microsoft is calling sparklines. They're essentially tiny charts (bar, line, or column) that fit within single cells. You could insert one next to a row of numbers, for example, to quickly and visually summarize them.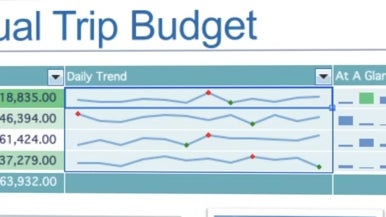 Excel also gets a revamped version of conditional formatting. While Excel for the Mac has had such formatting before—it lets you define the style of a cell based on its contents—its implementation is now compatible with Excel for Windows. The Mac also inherits some new conditional formatting tools—including such pre-packaged criteria as Top 10, Bottom 10%, and so on—from its Windows counterparts.
Finally, the latest video touts the fact that there are now in-app photo-editing tools in every program. Those tools aren't as robust as a dedicated photo editor, of course. But for basic polishing they'll do. They'll let you correct brightness and contrast, apply special effects, and crop an image.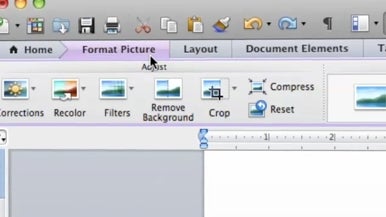 Microsoft plans to release Office 2011 at the end of October. The Home and Student version (which includes Word, PowerPoint, Excel, and the Messenger IM app) will retail for $119 (for a single license) or $149 (for a family pack that allows for installs on three Macs). The Home and Business edition (which adds Outlook) will cost $199 (for the single-pack) and $279 (for a multi-pack that installs on two machines).
Office for Mac Home and Business 2011