Memeo unveiled a beta in June of Memeo Connect 2.0, its greatly enhanced Google Docs client for Mac and PC designed for SMBs and enterprises. On Wednesday, the company took this version out of beta and also released a surprise Memeo Connect Reader client for iPhone to complements its iPad version.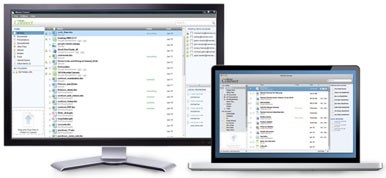 Memeo Connect takes on the Box.net and SharePoints of the world, though with a Google-y twist: it creates a bridge between your computer and Google Docs for Google Apps users. You can synchronize your documents with Google Docs, and any edits you make, even while offline, are automatically synchronized with Google Docs when you have an Internet connection.
Even though Memeo Connect 1.0 only debuted in January, version 2.0 is a major upgrade that takes Google Docs integration with Mac OS X and Windows much further. It now creates a drive, called GDrive, that looks and acts like any other external drive you plug in, allowing you to drag documents into it for syncing with Google Docs or saving straight from an application like Microsoft Word or PowerPoint (interestingly, Google's long-rumored file syncing service has also been purportedly called GDrive). Memeo said in a press release that it worked directly with Google on some of the features in this new version.
Memeo Connect 2.0 also brings Google Docs's full text search and version archiving to your desktop. You can use the Memeo Connect app to search inside all of your documents at once, and it can save multiple versions in case you need to roll back to a previous version later.
The new version also makes viewing and sharing documents online much easier. Businesses and enterprises considering large deployments may also appreciate the new integrated site license server and real-time account status panel that displays file storage space availability.
Pricing for Memeo Connect 2.0 starts at $9 per user, per year for businesses and organizations that already have a Google Apps Premier account. Memeo also offers a bundle of both the Google Apps account and Memeo Connect for $59 per user, per year, and offers discounts to organizations purchasing more than 10 accounts. Memeo Connect Reader apps for iPhone and iPad are available now for free in the App Store. The iPhone version requires iOS 4.0 or later, the iPad version requires iOS 3.2.