Display manufacturer ViewSonic has announced that all of its PC displays will feature Light Emitting Diode (LED) technology by early 2011, offering customers significant energy cost savings and improved performance and contrast.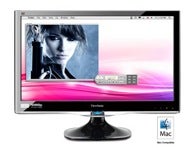 LCD monitors that use LED backlighting use about 40 percent less energy than displays that use traditional cold cathode fluorescent lamps (CCFL). Furthermore, displays that use LED backlighting—such as those in the newer iMacs—have a higher contrast ratio, low electro magnetic interference (EMI), and slimmer footprint. Because of the clear benefits of LED backlighting and lowering costs of production, more and more display manufacturers are turning to LED. Apple, for example, pledged to transition from fluorescent lamps to LEDs in its displays three years ago when Steve Jobs wrote an open letter on the company's environmental policies.
ViewSonic's announcement coincides with the release of its newest display, the VX2250wm-LED, a 22-inch LED backlight display that offers full HD 1920×1080 resolution, 5ms response time, and 10,000,000:1 MEGA Dynamic Contrast Ratio. The display's MSRP is $279 but it retails for around $165.