There are a lot of video games out there with the potential to take over your life. At least with SimCity Deluxe, from Electronic Arts, all of your free time will be sucked up by the arguably cerebral activity of urban planning and management.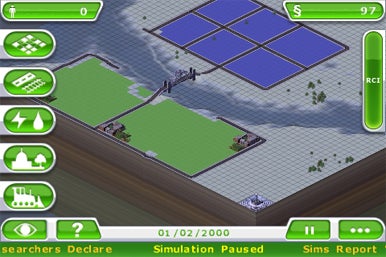 Those familiar with the 20-year-old SimCity franchise know the drill: you design a city from scratch, then develop it while trying to stay on budget and meet the needs of your population. SimCity Deluxe differs from the original iPhone version by offering improved graphics, more build options, and gameplay elements taken from more recent editions of SimCity. When you first launch the app, you're given a choice to "Play," which will take you through the steps of building a city from the ground up, or you can load a scenario and play the game according to its pre-set goals.
After you select the terrain, time period, difficulty, and several other specifications for your city, you start off with all of the options in the world and very little idea with how to put them all together. Luckily, a very thorough tutorial walks you through each step of the urban planning process, from building roads to zoning, power plants and waste management.
Once you've got the major elements of your city laid down, the game lets you loose to spend your simoleons (SimCity's currency) till your budget runs out. Build schools, parks, hospitals, and plenty of other city features to spice things up.
A stable of seven advisors will keep you on track toward meeting your city's zoning, transportation, financial, environmental, health, public safety, and utilities needs. Depending on what your goals are, you can turn the place into a fascist despot, a free-for-all hive of scum and villainy, or a sustainable utopia. Or all three, if you feel like saving multiple profiles and tending them all simultaneously.
Once you've managed to balance your budget, create a quality of life for your residents, and foster a healthy business sector, you can shake things up with your choice of natural disasters and other emergencies. Everything from alien attacks to earthquakes to locust invasions a la the Old Testament.
SimCity Deluxe manages to nicely translate the features of the computer game to the iPhone. The smaller screen size may make your city and its icons feel cramped, but the tapping mechanism is an intuitive stand-in for mouse clicking. Otherwise, the graphics are flawless an the gameplay is never boring. SimCity Deluxe looks much better than the original app launched for the iOS devices and many of the bugs have been corrected while the menus have been retooled. Still, SimCity Deluxe doesn't suppor the iPhone's Retina Display, so while the game looks better, it's not as big a leap forward as it could be.
Similarly, while there have been some nice changes with the menus and bug fixes, it's still difficult to lay pavement or piping by dragging your finger. Some of the bigger decisions you'll make for your city—like say building a police station—are easily handled thanks to large icons. But some of the nitty gritty details are difficult even when you've fully zoomed in.
For the $7 price tag, SimCity Deluxe is a fun, intuitive game that is in many ways the best SimCity mobile platforms have ever seen. However, those who already purchased the original SimCity for the iPhone may find the pricetag a bit high for what is essentially a more polished, fuller version of the original.
[Meghann Myers is a frequent contributor to Macworld.]