Zagat has has released a major upgrade to Zagat To Go for iPhone, iPod Touch, and iPad. Version 4.0 of the food guide app includes Foursquare integration, Foodspotting photos, and the new Zagat Dining Journal.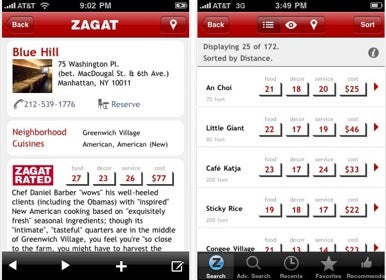 Zagat is a well-known restaurant guide that rates restaurants on a 30-point scale that covers food, decor, service, and cost. Zagat To Go packages these reviews into bite-sized morsels for the iPhone and iPad, making it easier to choose where you'd like to dine while on-the-go.
Zagat To Go 4.0 features integration with Foursquare, a location-based social game in which players "check in" at different restaurants and shops and make it easier for friends to meet up. Now, Zagat To Go users with Foursquare accounts can check in to any restaurant right from the Zagat app.
Also new is the addition of thousands of Foodspotting photos. Foodspotting is a site in which users post pictures of food from restaurants around the world. With Zagat To Go's Foodspotting integration, you'll now be able to see the food as well as read about it.
The final new feature is the Zagat Dining Journal, which gives Zagat To Go users the Yelp-like ability to post reviews, experiences, and ratings to restaurants they visit.
Zagat To Go 4.0, which runs on iOS 3.1 or higher, costs $10 for new users and is a free upgrade for existing users.