Modern Conflict HD is a real time strategy (RTS) game for the iPad from Click Gamer. It has the basic elements you would expect from any RTS game— resource management, the need for a sound strategy and the goal of domination over your enemy— but unfortunately, Modern Conflict offers little else to distinguish itself.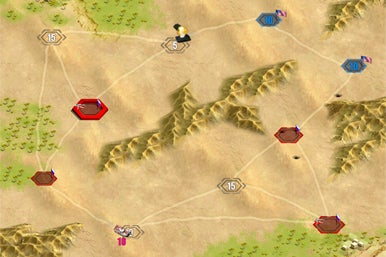 You start the game in a tutorial mode that gets you familiar with the controls and nuances of Modern Conflict HD and then it's on to either a survival or campaign mode. The survival mode is just that — survive as long as you can against a constant barrage of enemy forces. The campaign mode is where you'll spend most of your time playing against different enemies on varying maps and terrains. You start out with a limited number of bases under your control. The enemy has its bases as well and the first one to control every base on the map wins.
To take over a base you attack it with either tanks or helicopters. Tanks can only attack adjacent bases while helicopters can attack any base on the map. You can select half of the forces from a base with one tap or all of them with two taps. Once the forces are selected you just tap the base you want to attack and they advance towards it. The damage is one to one so if you attack a base that has ten defenders with eleven of your own forces, you would take over the base with one unit left to occupy it. Each base you control produces more units over time for you to wage war with. Deciding when and what to attack is the key to winning. If you are the first to take a new base you get five extra units and if you are down to your last base you automatically get an air strike or additional back up units added to your base. While there are some strategic elements to consider, the overall gameplay is pretty basic. This may be exactly what some gamers are looking for in an RTS game but many will be left wanting more.
The graphics in Modern Conflict HD are relatively bland. They're not bad but not exactly eye candy either. The sound effects are pretty decent though with the radio commands and explosions adding to the overall enjoyment of the game.
There are online leaderboards but unfortunately, no online play option. The best part about any RTS game is testing your skill against other players in an online multiplayer match. With it's overly simple gameplay, missing multiplayer mode and lackluster graphics I just can't see recommending Modern Conflict HD.
[Armchair general Tim Mercer is a frequent contributor to Macworld.]