Mobile Safari is a pretty good Web browser on the iPad, but Lunascape, makers of a "triple engine browser" for Web developers, thinks it can do better. iLunascape is the company's new Web browser that brings a new interface, "real" tabbed browsing, and a handful of power user feature to Apple's tablet.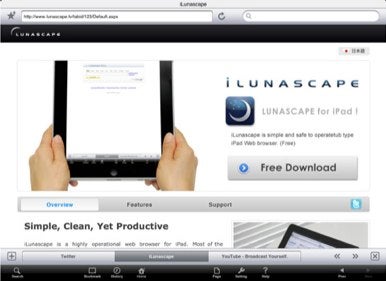 iLunascape was designed to make Web browsing more convenient on the iPad, so its toolbars and almost all buttons are at the bottom of the display; well within thumbing territory, the company claims. The browser also uses a more traditional tab interface in contrast to Mobile Safari's "pages," displaying actual tabs at the bottom of the window.
Besides a unique interface, iLunascape offers a number of features that Apple's out-of-the-box browser does not. You can snap Web pages as screenshots (saved in the Photos app); set a Home Page that opens in new tabs by default; open search results in a new tab; and set a built-in rotation lock if you want to leave the iPad's system-wide lock disabled. You can also manually clear iLunascape's history, cookies, and cache.
Of course, since the iPad does not yet have the multitasking features of iOS 4, Lunascape had to compensate for some comparative shortcomings of iOS 3.2. Specifically, you can enable an option to restore tabs automatically from the last session when you start the app.
iLunascape is by no means the first Mobile Safari alternative for the iPad. Other browsers, such as Atomic Web Browser and Mercury Web Browser, offer their own takes on features like tabbed browsing and even download managers.
iLunascape is available now in the App Store for free and requires an iPad running iOS 3.2 or later.