Nikon on Wednesday announced the D3100, the newest addition to its lineup of DSLR cameras. The D3100 has a 14.2-megapixel CMOS sensor, three-inch LCD display, and one button 1080p HD video recording. It will be packaged with an image-stabilized AF-S Nikkor 18-55mm f/3.5-5.6 VR lens, and sold for an estimated $700.
The D3100 debuts some impressive new Nikon features, most notably continuous auto focus in video recording and live view modes. When you activate Live View using the dedicated switch, the D3100's 11-point autofocus system will lock-in on your subject and refocus as necessary when the subject moves around. Face Detection technology also gets a boost in the D3100, with the ability to focus on up to 35 different faces at a time, perfect for those unwieldy group and family shots.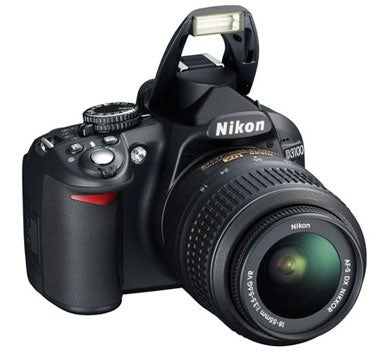 Inside the D3100 is Nikon's new Expeed 2 image processor, which Nikon claims works to improve the camera's performance speeds and overall image quality. The camera's low light abilities are impressive, with an ISO range of 100 to 3200 that can expand up to 12,800 with the Hi-2 setting. The camera also includes new Scene Recognition and Auto Scene Selector features, 3 fps continuous shooting, an optional quiet shutter release, and in-camera editing effects.
By pressing the new dedicated movie button a user can immediately start recording a 1080p AVCHD video at 24 fps, or a 720p video at 24 or 30 fps. The beginning and end of a recorded video can now be trimmed in-camera, and an HDMI port allows for instant viewing on an HDTV. All of those video files can now be record to SDXC memory cards.
Jumping on the latest trend of providing ample in-camera help and tutorials for beginner photographers, Nikon has beefed up its Guide Mode in the D3100. The Guide Mode—accessed from the camera's Mode dial and viewed on the LCD screen—is packed with sample situations and photos, and step-by-step advice on how to achieve similar results. Some examples include creating shallow depth of field, blurring moving water, or getting a sharp shot of a fast moving subject.
Nikon has also announced three new Nikkor lenses: the AF-S DX 55-300mm f/4.5-5.6G ED VR, AF-S 28-300mm f/3.5-5.6G ED VR, AF-S 24-120mm f/4G ED VR, and AF-S 85mm f/1.4G.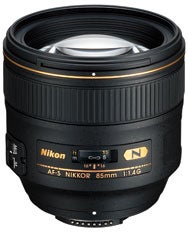 The most affordable of the batch is the AF-S DX 55-300mm f/4.5-5.6 VR telephoto lens, which will sell for an estimated $400. It includes a tripod detection mode to improve image stabilization. The next step up is the higher-end AF-S 28-300mm f/3.5-5.6 telephoto lens, which can zoom in up to 10.7x and will sell for an estimated $1300. With a fixed aperture of f/4, the 24-120mm ED VR lens is a flexible shooter that will retail for approximately $1050.
The final lens is sure to be lusted-after by many Nikon-using pro photographers. The AF-S 85mm, f/1.4 ED portrait lens's fast aperture (f/1.4) is great for creating shallow depth of field and capturing stunning low-light images. This lens will be sold for an estimated $1700.
The D3100 will available in mid-September, and the four Nikkor lenses will be available in late September.