There's no guarantee that Traffic will make your commute any quicker—but at least you'll know exactly why you're stuck in traffic.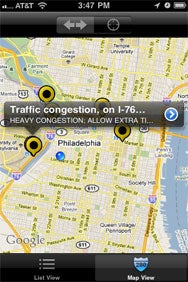 The $2 app from CLO Software offers detailed real-time information—ranging from road construction to car accidents to run-of-the-mill congestion—about traffic bottlenecks in the area where you're driving, and how long those problems are expected to last. The data it offers is much more specific than offered by the traffic function on the iPhone's native Maps application, but Traffic's bullet-point approach can be less useful than Maps' wordless method of highlighting entire routes that are obstructed.
The data available through Traffic can also be frustratingly incomplete. I tested the app in Philadelphia, where the program highlighted several road construction projects throughout the city, but failed entirely to note a major ongoing bridge closure just a few blocks away. That could be a problem for any users relying on Traffic to navigate their way through a strange city.
Whether you should spend $2 on the app, then, depends on how much you want to know about why traffic is blocked along your commute. If you just want to know what streets to avoid, you can do the job cheaper with Maps.
[Joel Mathis is a freelance journalist and political columnist for Scripps Howard News Service. He lives in Philadelphia.]